Federal Brace Photo Contest Winner Announcement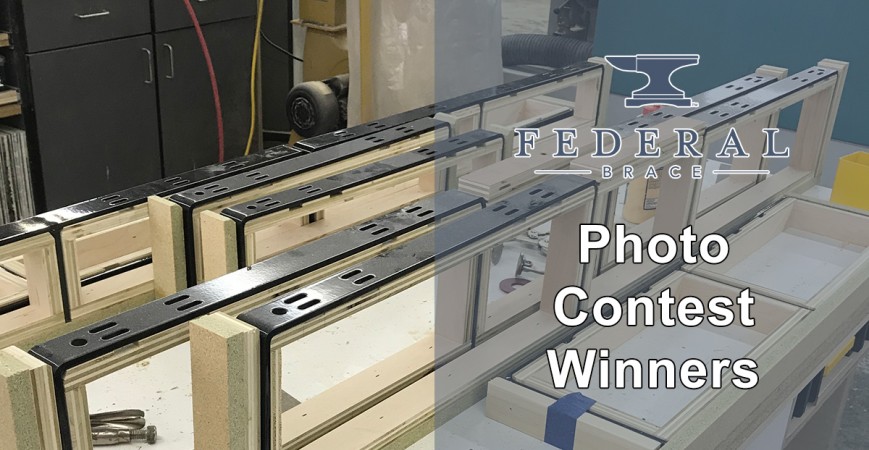 Posted on
07/09/2021
by
501
Last month, we wrapped up our first ever customer photo contest.
We asked our amazing customers to snap photos of their setups and product installation and offered prizes for all selected winners.
You guys came through and sent in some awesome photos of Federal Brace products in their natural habitat. It gives us great pride to see consumers enjoying the products that our team works so hard to engineer, release, and put out into the market.
Because we received so many incredible submissions, we're excited to announce that there will be another photo contest running throughout the second half of 2021!
We'll include details about that contest below, including a link of where to sign up. Before that, let's dive into the winners and take a look at their photo submissions.
1. Kathy and Ed (South Door Supply) from Charlotte, NC
Our first place prize goes out to Kathy and Ed at South Door Supply. The company created custom floating shelves by designing them around our Low Profile Floating Shelf Brackets. The numerous shelves include being used in hotel spaces.
We chose South Door Supply as the first place winners because we were impressed by the tactics they used to build the shelving around the brackets. From the building process image, you can see that they aligned each piece of wood to be compatible with the build of the bracket. We are honored to see our bracket being the preferred choice of support for these sleek, custom shelves.
2. Joann K. (Kandrac & Kole Interior Design) from Kennesaw, GA
Our second place prize goes to Joann K. from Kandrac and Kole Interior Design. The designers utilized our Classic Floating Shelf System in White to put shelving up in a luxury leasing center. The purpose of this shelving was to give the space a luxurious feel while breaking up the tile on the wall to create a captivating focal point.
We chose Joann's design because we were highly impressed with their talented ability to transform a simple white shelf into a part of a piece of art. Our shelves can be used for a variety of applications and we appreciated the angle they took with the application.
3. Scot R. from Holland, MI
Our 3rd place prize winner goes to Scot R. from Holland, MI. Scot created a floating bench seat using our Brewster Wall Mounted Bench Brackets.
We chose Scot's installation because we found the utilization of his application unique. We liked how he paired the metal of the bracket with the wood of the bench. We felt that it was bringing the outdoors indoors with a sturdy rustic vibe, but a clean, sturdy look. The combination of the wood material, metal brackets and space of his build blends together as a nice addition to the room.
Send us your Installation Photos
We appreciate all of the submissions, and again - congratulations to our winners for this contest!
Another contest is now live and running through the end of the year. Get your installations ready, snap some photos, and enter our contest!