How to Install The Teak Floating Shelf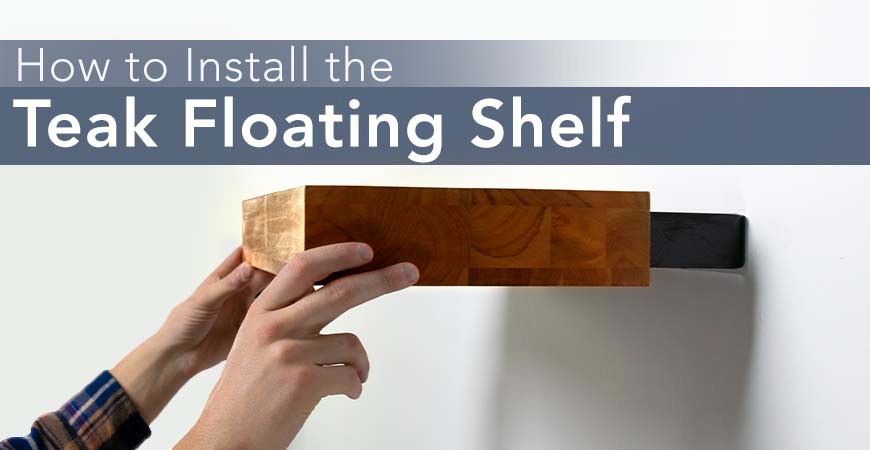 Posted on
01/20/2022
by
436
Teak floating shelves are the perfect addition to any home decor. But how do you mount them? This guide will detail everything you need to know about teak floating shelves and how to get your shelf onto the wall safely.
Why Choose Teak For Your Floating Shelf
Teak floating shelves are the perfect balance between form and function. Able to serve various organizational and decorative functions, these gorgeous shelves suit any style or storage need. 
Teak is prized for its long-lasting durability and natural beauty. Originating from tropical climates, teak wood trees have a large concentration of natural oils that protect against water and pest damage. These weatherproof qualities make teak an excellent choice for indoor/outdoor use. 
Not only does teak have a natural resistance to decay, but looks beautiful. In its fresh state, teak is honey-colored with a tight grain. However, when exposed to the elements, teak will develop a protective silver-gray patina. 
Advantages of Floating Shelves
Floating shelves are an incredibly versatile home storage solution. Since they don't take up any valuable floor space, they're perfect for small spaces. You may also choose to use floating shelves to highlight family photos or other priceless mementos. 
Whether you're looking to create a stunning focal point or incorporate seamless storage, floating shelves are a great addition to any home. 
Mounting Your Teak Floating Shelf: Everything You Need To Know
Mounting teak floating shelves is a breeze with this detailed guide. Don't worry; no prior experience is necessary. 
Picking A Place For Your Teak Floating Shelf
To ensure your new teak floating shelf is hung correctly and meets its max carry capacity, you must mount the bracket directly into wall studs. So before you choose the perfect location for your floating shelf, be sure to locate the studs.
Ideally, you will have wood studs at least 1.75" thick. If not, you may need to open up the wall to reinforce your wall studs directly. Reinforcement is more likely necessary in basements and other rooms with metal framing. 
Once you've located the center of your wall studs, mark the spot lightly with a pencil. Again, a stud finder is handy for this.
Then, measure from the floor to determine the best height for your shelf and make another light pencil mark.
Now that you know where you want to hang your shelf go ahead and grab a level and draw two tiny horizontal lines marking the placement of the bracket. 
Remember, your shelf is only as strong as its support bracket!
Preparing to Mount the Bracket
Once you've picked a good spot for your shelf that will be both secure and aesthetically pleasing, it's time to prepare your wall to hang the bracket. 
Hold up the mounting bracket in line with your final measuring marks, and mark the slots where you will attach the bracket to the wall. 
Then, using a drill bit slightly smaller than the fasteners, drill pilot holes where you last marked. Ideally, the bit will be 0.25" smaller than the fasteners.
Mounting the Floating Shelf Bracket
Now that you have your pilot holes drilled, you should hold the bracket in place and begin tightening down the fasteners. 
However, before tightening them down completely, grab your level and ensure the bracket arms are entirely even. It's much easier to make minor adjustments before all the screws are machine-tight.
When you're sure you have a perfectly level shelf, go ahead and tighten down the brackets using your drill. After, remove the surface protectors.
Mounting the Teak Shelf Onto the Bracket
With the mounting bracket securely in place, it's time to hang your shelf. First, add a small bead of silicone to the top edge of the bracket arms and to the back of the bracket to hold it in place.
Then, slide the shelf over the bracket arms to its final position. Finally, wipe down your shelf to remove any fingerprints or debris.
Congratulations! All you have left to do is decorate your gorgeous new teak floating shelf. 
Frequently Asked Questions
Can I Mount My Teak Floating Shelf Without Wall Studs?
You may be tempted to install your teak floating shelf without hitting your wall studs. This is not recommended as your shelf may no longer be weight-bearing. However, there is a solution if the studs are not quite matching up. 
While wall anchors and toggle bolts may seem like an easy solution, they cannot provide the necessary structure for your floating shelf. However, if you are set on hanging your shelf between studs, you can add blocking to your wall. 
For this solution, you will have to open up your wall. Then you will install plywood blocking in between the studs. Once you've correctly added the blocking and re-drywalled the area, you can screw directly into the plywood or the wood studs. 
There are some great tutorials available online on installing blocking between your studs. You can check these out if you're interested in this DIY solution. 
Where Can I Mount My Teak Floating Shelf?
The opportunities are endless for locations for your new teak floating shelf. Beyond the wall stud requirement, the limit is your imagination. Teak is both humidity and pest-proof. Therefore, you can mount this gorgeous shelf in every room of your house inside and out. 
A floating teak shelf would be elegant in a kitchen, natural in a bathroom, and solid in your entryway. Wherever your choose, you are sure to love your teak floating shelf for years to come.
How Do I Care For My Teak Floating Shelf?
Since teak is a durable and long-lasting wood, cleaning and care are straightforward. For regular cleaning, add one cup of mild laundry detergent to a gallon of water. Then use a soft-bristled brush to loosen dirt and stains. Finally, wipe with a lint-free cloth. 
You want to avoid harsh cleaners as they can damage the natural oils in the wood's core. These natural oils make teak naturally mold-resistant. However, in the case of mold, you can add one cup of bleach to the cleaning solution. 
Be sure to rinse any soap off your teak floating shelf and let it dry before redecorating. 
The Teak Floating Shelf from Federal Brace
Federal Brace is excited to offer a brand-new teak wood shelving solution. Our Teak Floating Shelf is clean and modern while retaining the wood's natural beauty and durability. It comes complete with all brackets, fasteners, and silicone to make hanging a breeze. And with an impressive carrying capacity of 100 pounds, teak floating shelves from Federal Brace are sure to last for years to come.