What is the Best Material for Floating Shelves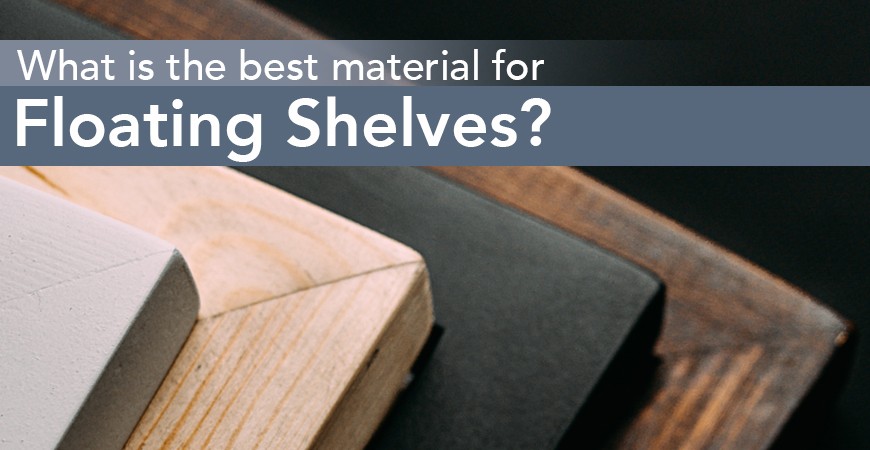 Posted on
01/11/2022
by
3805
Storage is fun and elegant with floating shelves. Without sacrificing valuable surface space, you can display cherished photos, books, art, and even toys by incorporating floating shelves in your home decor. 
Floating shelves are simple, yet stylish, with clean contemporary lines. Available in various materials, including maple, teak, glass, and MDF, floating shelves can suit any style or storage need.
Here at Federal Brace, we offer a wide variety of heavy duty floating shelf systems. Beautiful and easy to hang, our floating shelves are sure to impress for years to come. 
Maple Wood Floating Shelves
Characteristically, the maple wood is warm, natural, and solid. Decorators love it for its smooth texture pattern and uniform coloring. These properties make it an invaluable asset in beautifying your space. 
Features of a Maple Floating Shelf
Maple wood is white with a spattering of red-brown hues. It's derived from the Acer Saccharum, or sugar maple, tree. Maple has a great resistance to splitting and can withstand a heavy load. 
Maple is also an excellent choice for live edge floating shelves. These shelves retain their natural shape on their edge, which makes for a unique natural statement piece.
Pros of Maple for Your Floating Shelf System
Durable: Maple is one of the hardest woods available and is known for its long-lasting strength. With a higher density than oak, maple is an excellent choice for floating shelves. 
Affordable: Unlike many other hardwoods, maple is affordable. You don't need to break the bank to get a beautiful floating shelf.
Natural: Maple retains a natural feel even after production. Maple shelves will give you home a natural feel with its rustic smoothness.
Scratch Resistant: Maple is also naturally scratch-resistant. You can even improve on these properties through the application of a wood sealer. 
Cons of Maple for Your Floating Shelf System
Low Weather Resistance: While maple is solid and scratch-resistant, it doesn't fare well in wet climates or as outdoor furniture. 
Susceptibility to Staining: For most uses of floating shelves, this property isn't a deal-breaker. However, be sure to use a coaster or properly seal maple before use in high traffic areas of the home. 
Teak Wood Floating Shelves
Chiefly, people describe the teak as the king of timber because it has a significant edge over most other woods. Its features are so magnificent that it was nicknamed the "royal timber in ancient times." 
Teak is popularly known for its stability, durability, and high resistance to termite damage. This wood can survive under harsh conditions, including sun, snow, rain, and frost, while only getting better with age. A floating shelf built with teak is sure to last a lifetime.
Features of a Teak Floating Shelf
Teak brightens up any space while being virtually indestructible. Teak ranges from a golden brown for new or treated teak to a silver-gray when exposed to the elements. Natural oils protect the teak from drying out or rotting. Although this wood can be on the pricier side, it's a wise investment.
Pros of Teak for Your Floating Shelf System
Beauty: In both its new golden state and its weathered silver, teak is a stylish choice for any decor. Teak also emits a pleasant odor due to its high level of natural oils.
Long-Lasting: Teak wood doesn't decay under normal conditions. The wood is too hard for termites to find attractive, and its internal concentration of oils prevents dry rot. 
Weatherproof: A popular choice for patio furniture, teak can withstand humidity, UV rays, and even snow.
Strength: Teak is strong and durable, with a hardness rating higher than oak and maple. 
Cons of Teak for Your Floating Shelf System
Cost: Teak is expensive due to its availability and demand. Teak is only found in Asia and can only be harvested after 20- 25 years of growth. Other countries' reliance on teak, combined with high import rates, explains its high product pricing.
Workability: Teak can be challenging to work on because of its hardness and high density. Applying wood glue on teak can also be a difficult feat because of its oily surface.
Glass Floating Shelves
You may also choose glass for your floating shelves for a sophisticated, airy look. While there might be fears of fracture or damage in a home environment, it's typically okay. Contrary to popular belief, the tempered glass used for furniture today is thick and incredibly shatter-resistant. 
The transparency of glass is excellent for highlighting objects on display on your floating shelves. Glass shelving is classic and unassuming, which allows your treasures to shine. 
Features of a Glass Floating Shelf
Glass shelves are surprisingly durable, especially when they're installed high above the reach of children or pets. They're also effortless to clean, unstainable, and resistant to weather and fire.
Pros of Glass for Your Floating Shelf System
Versatility: Floating shelves made from glass are attractive in both classic and contemporary home decor. Decorators love them because any features look great against the glass, including pictures of your loved ones.
Display Potential: Glass helps highlight any objects you wish to display in your home.
Easy Cleaning: You can wipe and clean the glass with ease. There is no complex strategy to clean or maintain a glass floating shelf, unlike many wood options.
Reflective Capacity: Glass materials are highly reflective. The light effect on your glass shelf helps create a clean and bright feel. 
Cons of Glass for Your Floating Shelf System
Fragility: Glass is naturally delicate. Even with advanced tempered options, a glass shelf may not be the right choice for hectic households or in high-traffic areas. 
MDF Floating Shelves
MDF, or medium-density fiberboard, is an engineered wood created by breaking down wood into fibers, combining it with wax and resin, and pressing it under high temperatures. More robust than plywood, this purpose-made material is an excellent choice for stable economical shelving. 
Features of an MDF Floating Shelf
Floating shelves made from MDF are a versatile and economical choice for most home decor solutions. Available in a wide variety of colors and styles, there is sure to be an MDF shelving solution to fit your style and organization needs. 
Pros of MDF for Your Floating Shelf System
Warp Resistant: MDF is a great choice for floating shelves in high-contact areas because it is less likely to expand and contract than natural wood. 
Customizable: Painting is a breeze with MDF. It takes paint well, and its smooth, even surface means the task is simple. 
Easy to Install: Floating shelves made from MDF are lightweight, dust-free split-resistant. Most homeowners find installing MDF shelves to be hassle-free
Cost-Effective: MDF is an economical option for stylish and durable floating shelves
Cons of MDF for Your Floating Shelf System
Water Resistance: MDF floating shelves do not perform well outdoors or in overly moist environments since they absorb excess water if not properly sealed.
Heat Resistance: Despite being manufactured under high heat, MDF is vulnerable to extreme heat within your home. Therefore it is unsuitable for you to hang MDF floating shelves near heaters, fireplaces, or stoves.
Qualities to Look for When Choosing a Floating Shelf Material
Durability: You must ensure that the shelf you want to purchase is durable. You will not like replacing the shelf after two years of purchase! Ensure that the shelves cannot snap easily under heavy loads
Weight Capacity: The objects you'll be able to keep on your floating shelf will be determined by their weight capacity. So whether you're storing textbooks or displaying your feather collection, ensure that the material you'll buy has the support you need. 
Space: Ensure that the shelving solution you choose can fit into the available space in your home. Measure your room before ordering a floating shelf.
Cost: Consider value when balancing price with quality. A shelf built to last will often cost less in the long run, so consider what your budget will allow.
Style: No matter your home decor taste, there is a floating shelf system out there for you. The sleek design and unobtrusive style of a floating shelf can fit into any home. And with a wide variety of available materials, the possibilities are endless. 

Hanging Floating Shelves

Choosing the best floating shelf system for you is only the beginning. Now comes the fun part; hanging. So many people dread home DIY projects, but hanging floating shelves doesn't need to be complicated! This handy guide will have you displaying your trinkets on your shiny new shelf in no time.
Use a stud finder to locate the center of your wall studs and make a vertical mark.

Measure from the floor to determine the height of your shelf and the best placement for the bracket

Use a level to draw two tiny horizontal lines marking the placement of the bracket(s).

Hold up the bracket and align the top to be level to the horizontal lines you drew.

Mark the pilot holes

Using a drill bit smaller than the fasteners, drill all pilot holes

Hold the bracket(s) in place, and tighten down each fastener completely

Slide the shelf over the bracket

Celebrate by decorating your new shelf!
A Floating Shelf System for Every Home
With many materials and styles to choose from, floating shelves are a simple organizational solution for any household. Whether you choose maple, teak, glass, or MDF, your new floating shelves are sure to display your belongings for years to come.
Federal Brace offers a wide variety of floating shelf solutions, from simple storage solutions to elegant accent pieces. Our floating shelves have a carrying capacity of 100 pounds each, so you never have to worry about overloading. Plus, they come with all the brackets and fasteners you need to hang your new shelves effortlessly.