Creative Ways to Use Floating Shelves in Every Room in Your House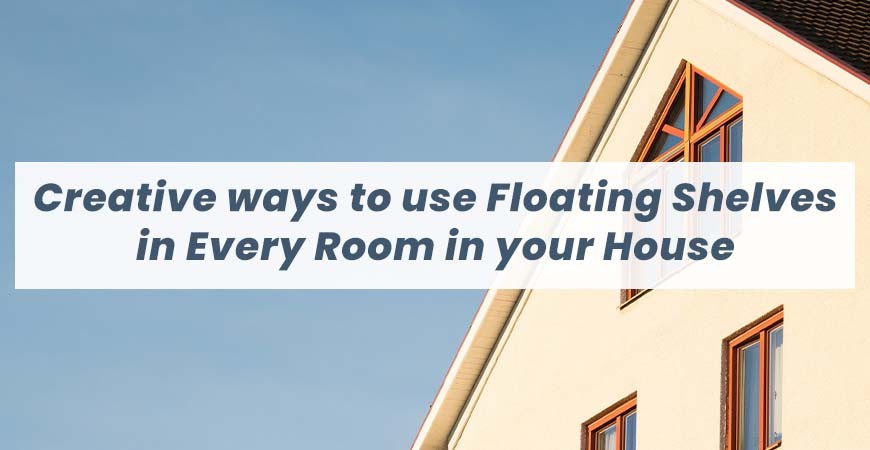 Posted on
01/04/2022
by
1564
Floating shelves are a great way to add style and storage around your home. They're perfect for tight or awkward spaces since they do not take up valuable floor space and look stunning. Available in a variety of designs, there is sure to be a floating shelf solution that fits your home perfectly.
This guide is sure to give you plenty of ideas on how you can use floating shelves to elevate your decor and tackle your storage woes. 
Floating Shelves in the Hallway
Entryways and hallways are high-traffic areas of your home that are often overlooked from a design standpoint. With a strategically placed floating shelf, you can bring functionality to your hall space as well as style. 
Floating Shelf Landing Console
Are you constantly losing your keys? Try installing a floating shelf by the front door to create a landing console for your keys and other leaving-the-house necessities. This drop zone solution is perfect for homes with tight entryways where an entryway table doesn't fit.
A floating shelf landing console is also a smart solution for dog owners. Here is the place to store leashes and other pet necessities.
Hallway Displays
You can use floating shelves in the hallways of your home to display family pictures or other precious mementos. A personalized hall is a great way to showcase memories and acts as a great conversation starter with guests to your home. 
Floating Shelves in the Bedroom
Floating shelves are perfect for bedroom decor. Whether you wish to proudly arrange your child's trophies in their rooms or display artwork in your own bedroom, floating shelves are a great choice.
Floating Shelf Nightstand
No room for a night table? A floating shelf next to the bed is a perfect alternative. With a floating shelf nightstand, you can place your charging phone, alarm clock, water glass, or even a lamp, all without needing floorspace. 
Using floating shelves as nightstands is a perfect solution for matching his and her arrangements. You can even use a floating shelf as bunk bed nightstands!
Gallery Wall
Instead of hanging pictures directly on the wall, try using floating shelves to create a Parisian-style gallery wall. You can easily rearrange artwork displayed on shelves to complement changes in taste without having to put additional holes in your walls. 
Above the Bed Decor
Hanging a floating shelf or two above your headboard is a great way to decorate that often forgotten above the bed spot. Then you can decorate with books, plants, and photos to create a unique display. 
Be sure to hang your shelves high enough that you won't hit your head on them, and you're good to go!
Floating Shelves in the Kitchen
Are you running out of counter space? You're not alone. Storage is always a top concern in kitchens, and a floating shelf system is an excellent solution. Not only can you increase your storage space with floating shelves, but improve the look and functionality of your kitchen.
Storing Dishes and Small Appliances
Imagine having your favorite wine glasses on display in the kitchen. Dishes and glassware are easily accessible and look splendid on attractive floating shelves. You can even use floating shelves to store infrequently used small appliances up and out of the way. 
Floating Shelf Spice Rack
Another option is to use a floating shelf as a spice rack. No more rummaging through your cabinets to find spices mid-cooking. Instead, they can be conveniently stored on a floating shelf above your countertop. 
Cookbook Storage
In most kitchens, there is no logical place to store cookbooks. They're in the way and risk getting dirty on the counter, and in a cabinet, they are often forgotten. With a floating shelf, you can store cookbooks up and out of the way with them still being accessible.
Mini-Bar Shelf
Cocktail lovers everywhere could benefit from floating shelves to display liquor bottles. You can even use a strip of LED lights to add some extra bar flair. Never again will you need to dig through a dark cabinet to locate the triple sec that you swore you bought. 
Collectibles Display
Some popular kitchen essentials can also be sought after collectibles. So whether you're an avid collector of vintage salt and pepper shakers or purchase a Starbuck mug in every country you visit, a kitchen floating shelf is the perfect way to display your treasures.
Floating Shelves in the Bathroom
Bathrooms are another room in homes where space is at a premium and storage can be tricky. Consider incorporating a handsome teak floating shelf for a long-lasting and humidity-proof bathroom storage solution. 
Floating Shelves Above the Toilet
Use floating shelves above the toilet to make use of otherwise wasted space in your small bathroom. Here they're perfect for extra storage or as a home for your favorite humidity-loving plants. You can also place your favorite fragrance air freshener here.
Towel Storage
Displaying towels on floating shelves in your bathroom is an elegant and convenient alternative to a linen closet. Neatly folded towels are easily accessible on a floating shelf and look great. Never again will you have to go searching for a towel dripping wet.
Floating Shelves in the Living Room 
Floating shelves shine in the spotlight of your living room. In the heart of your home, they serve as both convenient storage solutions and elegant decor.
Unique Floating Bookshelves
Durable floating shelves make excellent bookshelf solutions. By using a series of floating shelves to create a bookshelf on your living room wall, you not only save floor space but easily mimic pricey built-ins. 
Media Equipment Floating Shelf Storage
From stereo systems to Alexas, our homes are full of more electronics than ever. With floating shelves, you can easily place speakers exactly where you'd like for a surround sound experience or simply organize valuables up and out of the way. 
Floating Shelf Mantel
Whether or not you have a fireplace, a mantel is a classic addition to your living room. Try choosing a statement piece, such as this gorgeous live edge maple shelf. With a floating shelf mantel, you can display family portraits and decorate for the holidays effortlessly. 
Over-Couch Displays
While many people choose large art pieces to display above the couch, floating shelves are a versatile choice that allows you to freshen up your decor in a snap. Try showing unique items such as small sculptures or plants for a truly personalized living space. 
Floating Shelves in the Office
Home offices are often a second thought when it comes to decorating and smart storage solutions. Not only could floating shelves help unclutter your desk, but they inspire better work. From family photos to awards, a floating shelf is an excellent addition to your home office. 
Office Plant Floating Shelf
Office plants are great for adding a green element to a stuffy workspace, but they're often in the way. With a floating plant shelf, you get all the benefits of indoor plants, including improved air quality and better focus, without sacrificing space.
Inspiration Display
Mood boards and collages are best left in your teenage past. However, an inspiration display may be just what you need to help you reach your goals. Try designating a floating shelf in your office to objects that inspire your goals. 
You should tailor inspiration displays to what motivates you best. So whether it's pictures of your children that remind you of what you're working for or industry awards that remind you of what you can accomplish, looking at your inspiration shelf is a perfect way to stay motivated. 
Floating Shelves in the Laundry Room
Laundry rooms and laundry corners rarely have enough storage built-in. A floating shelf system is a perfect solution to all your laundry storage woes. You can use them to store detergent and other essentials and in more creative ways.
Folded Clothes Storage
Do you find yourself struggling to find places for the many stacks of clothes you accumulate while folding? Consider hanging a floating shelf or two above your folding table for convenient storage of recently folded clothes.
Alternating Corner Floating Shelves
In especially tight laundry corners, space is at a premium. Try hanging a series of floating shelves in the corner for storage of clothes and laundry essentials alike. 
To achieve this look, you want to hang a shelf on one wall with the end touching the perpendicular wall. Then, hang the next shelf on the perpendicular wall touching the first wall. 
Why You Should Use Floating Shelves in Your Home
Floating shelves are the perfect marriage between form and function. Clean lines and low profiles make them fit seamlessly into any home. Meanwhile, floating shelves help create storage in otherwise tricky spots. 
Federal Brace is proud to offer a wide selection of floating shelf systems to fit any style or storage need. Our floating shelves all support at least 100 lbs and come complete with everything you need to hang them yourself! From weatherproof teak to elegant maple, we have a floating shelf for everyone.