The Best Wall Shelves For Coastal Areas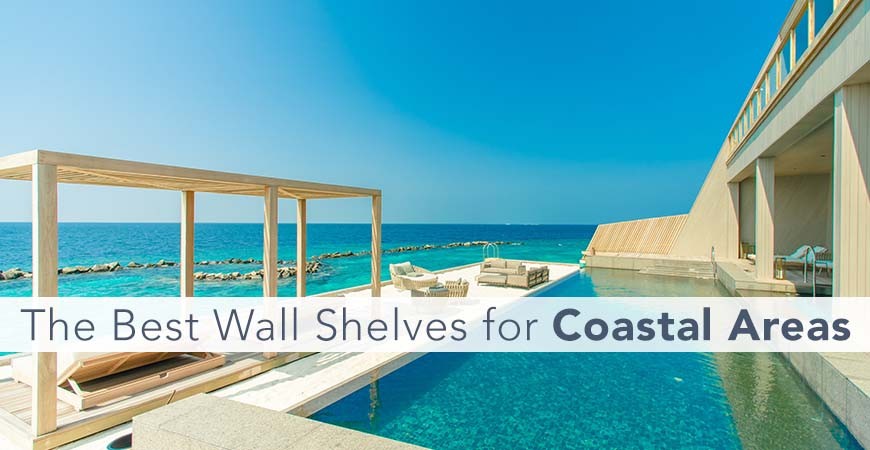 Posted on
01/20/2022
by
818
People located in coastal areas are consistently challenged by coastal weather conditions. 
Getting the right shelves, shelf supports, and shelving related items can be difficult due to the area's extremely wet and marshy climate. The moisture in the air causes an increased rate of decay on housing which gives off the well-known 'beach look'. 
An important housing consideration when moving, building, and remodeling in a coastal area is deciding on what are the most effective materials and equipment that can be utilized to withstand the coastal conditions and terrain. The same consideration should be used when deciding on what shelving and shelf support brackets will be used indoor and outdoor. 
The first step in increasing the longevity of your shelf's lifespan is to be aware of the different materials and how they react with the environment. Rest assured, there is no need to sacrifice your desired decor style for durability. We compiled a list of most and least resistant materials when it comes to shelving in high moisture environments. 
Most Resistant
Stainless Steel - Due to its natural properties, stainless steel has high rust and corrosion resistance. This makes it a perfect choice for high moisture areas. 
Powder Coated Steel - Powder-coated steel is raw steel that has undergone a coating process where powder paint electrostatically adheres to the product. This process acts as an effective protective coating because the process allows for in-depth, granular scale coverage.  
Copper - According to Home Ideas, copper does not corrode or rust when it comes in contact with water. Depending on your personal style preference, it may need some maintenance or can be left alone for a true, natural style. It also has natural bacteria-killing and spreading properties which makes it great for the bathroom! 
Teak wood - Teak produces natural oil that acts as a protective barrier against moisture. Often used in outdoor furniture and on boats, teak has high weather resistance. Its durability makes it one of the most common woods in beach and spa settings. 
Least Resistant 
Raw Steel - Untreated, raw steel is one of the least effective materials when it comes to wet environments. It is highly susceptible to rust and corrosion and has a short lifespan when used within these conditions. 
MDF - Medium Density Fibreboard (MDF) is an engineered compilation of soft and hardwood fibers. The reason why this material is discouraged in water prominent areas is that, although it is moisture resistant, it is not water-resistant. Therefore, when in contact with water, it has tendencies to expand and contract to lead to warping. 
Solid Untreated Hardwood - According to The Spruce, wood can be considered a great addition to any room. However, in high moisture areas like the bathroom, it is important to note that wood has to be treated. Wood absorbs moisture which can lead to rot and mold causing damage to its structural integrity. 
Plastic - Although plastic is a commonly used material, we do not recommend using it when it comes to shelving, specifically when showcasing heavy or high-value objects. According to research done by Omnexus, plastic has tendencies to absorb moisture which leads to degradation and weakening of the structure. Therefore, the lifespan tends to be shorter and the carrying capacity decreases over time. Aesthetically, other materials are more pleasing to the eye. 
Shelving is an important decision when it comes to the decoration of your home. It allows not only for expression but also the functionality. Choosing the right material is critical to ensure that no damage is done to the shelves but also the items being displayed on top of the shelves. It should be noted that although we don't recommend the least resistant materials for coastal shelving, they can fit well into other areas of your home where moisture is not prevalent like bedrooms and family rooms. Finding tasteful - coastal weather-compliant decor can seem challenging, but knowing the materials can make it much easier to navigate. 

Don't forget to check out Federal Brace's new Teak Floating Shelf and Teak Hanging Shelf. Not sure if this is the right style for you? No worries! We offer a whole range of shelving options for all types of personal preferences.