Makeover: Chris Loves Julia & Lowe's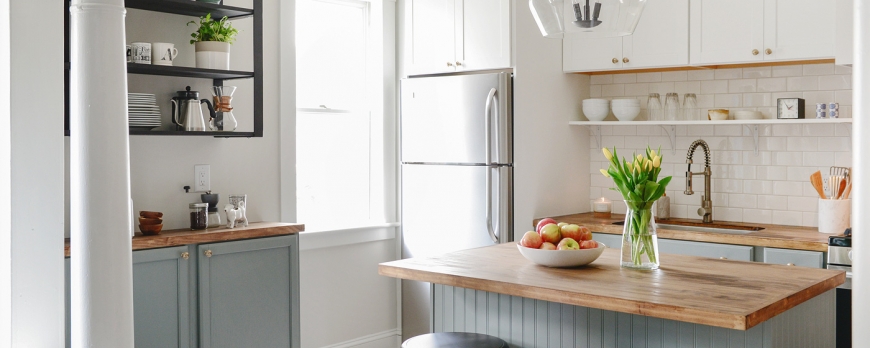 Federal Brace is delighted to have partnered with Lowe's Home Improvement Stores and DIY home renovation duo Chris and Julia Marcum, of Chris Loves Julia, on a gorgeous home makeover. The catch? The house was over 100 years old, it needed to be low-budget, and Chris and Julia had a mere weekend to complete both the kitchen and bath! The finished project was a historic Baltimore row house, with gorgeous design and a fresh, new look.
Photo via Chris Loves Julia
Chris and Julia spent a few weeks planning their design, measuring the space, and consulting with professionals to ensure their finalized model was ideal for the space without ever having seen it.  Additionally, they assembled a team of professional DIYers to assist them in their 72-hour home remodel, including Daniel Kanter of Manhattan-Nest.com, Kim and Scott Vargo of YellowBrickHome.com, and Brandon Marcum.
The list of renovated design aspects goes on and on. Chris and Julia tore down plaster walls, installed cabinetry and light fixtures, increased storage space, built a butcher's block, and literally raised the roof, among other innovative DIY improvements.
Photo via Chris Loves Julia
Their first stroke of luck came in discovering the ceiling was a dropped ceiling with no HVAC installed. After tearing that down, they were left with spacious 10' ceilings. Additionally, tearing down the plaster along one wall left gorgeous exposed brick in its path. The previous cabinetry needed some work, so new, clean white cabinetry was installed on the upper with a gorgeous blue-grey paint on the lower, and a simple open shelf above the kitchen sink was installed for display and easy storage.
More storage was added through the use of Federal Brace's Universal Shelf System, which was spray painted for a flat black look. The butcher's block was created with a DIY hack of using Lowe's project boards, though it really gave the kitchen a luxury look (on a budget!). The bold, but clean, trim also created a real luxe feel, which Chris and Julia said was their one splurge, stating that it was "worth every penny." It elevated the overall look of the kitchen in a moment, creating a lasting impression for being such a small piece of the overall design.
Photo via Chris Loves Julia
Subway tiling and wood plank laminate flooring completed the major selections while finishing touches in hardware and a unique lighting look was chosen. Additionally, major appliances, such as a sink, refrigerator, oven, range hood, and dishwasher, all in a flawless stainless steel brushed look, were installed prior to the final reveal.
Altogether, Chris, Julia, and their team accomplished creating a beautifully renovated space, in very little time, and with a mere $4555.35. That total included new appliances, cabinetry, shelving, a kitchen island and butcher's block, lighting and much more. The finished photos are stunning and the homeowners look so happy with the results! Thank you to Lowe's and Chris Loves Julia for incorporating our awesome products in this amazing project! We'll look forward to all the lovely home improvements and renovations to come!
Julia hard at work with the Universal Shelf. Photo via Chris Loves Julia
For more information on the Universal Shelf, visit Federal Brace online at www.federalbrace.com or contact their sales professionals by emailing customerservice@federalbrace.com.
Look below for a list of products used from Chris Loves Julia: