Creating Transitional Spaces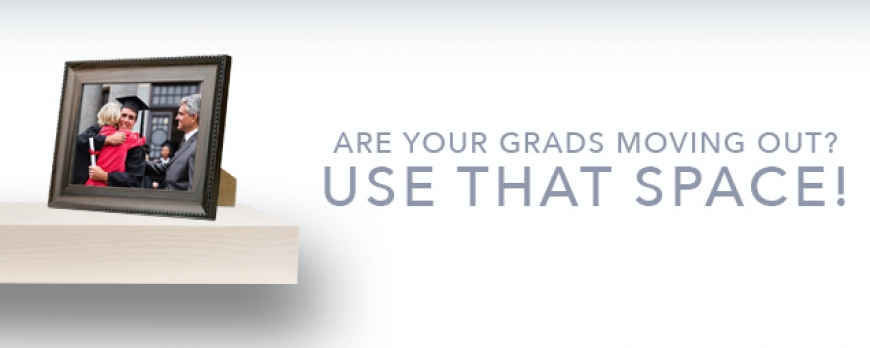 Come Spring, thousands of parents plot and plan what to turn their recent graduate's room into when they move out. Now it is time for Mom and Dad to finally get some R&R and create their own space! Whether your're looking to transform your newly freed area in a craft room, guest room, or sunroom, every space needs plenty of functional transitional storage spaces and pieces. Let's take a look at a couple great options that allow for customizable, flexible storage.
Transitional Craft Room
Furnishing a craft room that's able to serve multiple purposes isn't the easiest thing to do. Making sure that any large furniture you place in the room is both useful for crafting and can do double duty in case the kids decide to visit. However, ensuring your crafting space is both family and fun ready is simple with a little know-how and the right pieces. Rather than going for a large, cumbersome table when choosing a work surface, opt for a thinner width that will fit along the corners or walls of the room. This will not only open up the space but, if you decide crafting isn't for you, later on, can easily transition into a work desk.
Photo via Pinterest
Additionally, using open shelving or open cubby-style storage is a smart move - from yarn and scrapbooks,  to clothing or toys, they can hold anything.  You can purchase many storage solutions online, or if you're the handy type, put your craftiness to good use and make them yourself! Throw a daybed in the corner and you're good to go for your craft room meets nap room mashup!
Photo via Pinterest
Guest Bedroom
A guest bedroom is a bit easier to figure out. You know the staples - bed, bath, closet. However, what should be visible is a bit iffy. Having a set of drawers is what most folks choose, however, you can open up a smaller bedroom by opting for wall-mounted open shelving. Not only are these shelves able to store clothing, but, when guests aren't using them, they can be a platform for family photos, mementos, or trophies, allowing you to place these things that sometimes get relegated to a keepsake box or an attic out where people can view and enjoy them.
Photo via Homedit
Creating temporary and transitional storage after a big move may seem difficult at first, but with the right tools and tricks it's a breeze. Use this as a guide for your next home project, and visit us online at www.federalbrace.com for more home design inspiration.