Oh the Places You'll Glow: Placing LEDs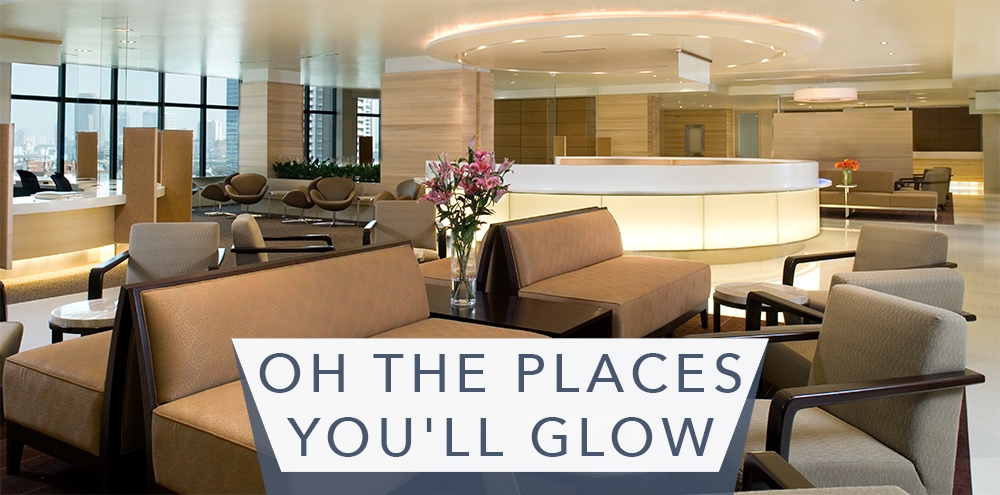 Lighting is a crucial aspect of any space, and yet, it's frequently overlooked or improperly used. Many spaces should have lighting of varied tones, allowing for the user to adjust when needed, yet harsh overhead lighting of singular brightness is the standard selection in many homes and retail locations. Changing the lighting can change the look, feel, and overall atmosphere of a room, as seen in venues such as museums or stage performances, where lighting technicians perform just as much as the headliner, swaying the audience through light displays. How can this translate into residential, retail, and commercial applications? How can a designer, contractor, or homeowner perfectly outfit their space to provide full, luminous light without detracting from the ambiance?
The goal when lighting a space is to provide adequate illumination for whatever task may take place in that location, but not much more beyond that. Overhead fluorescent lighting can sometimes be too harsh, creating a ghostly pale look while getting ready, or not luminous enough, leaving you searching for a flashlight. There is a multitude of LED light bulbs and lighting strips that can provide the same effervescent glow as a warm fluorescent bulb, but are more energy-efficient and more versatile to boot! Below is a list of a few key places that LED lighting can, and often should, be incorporated.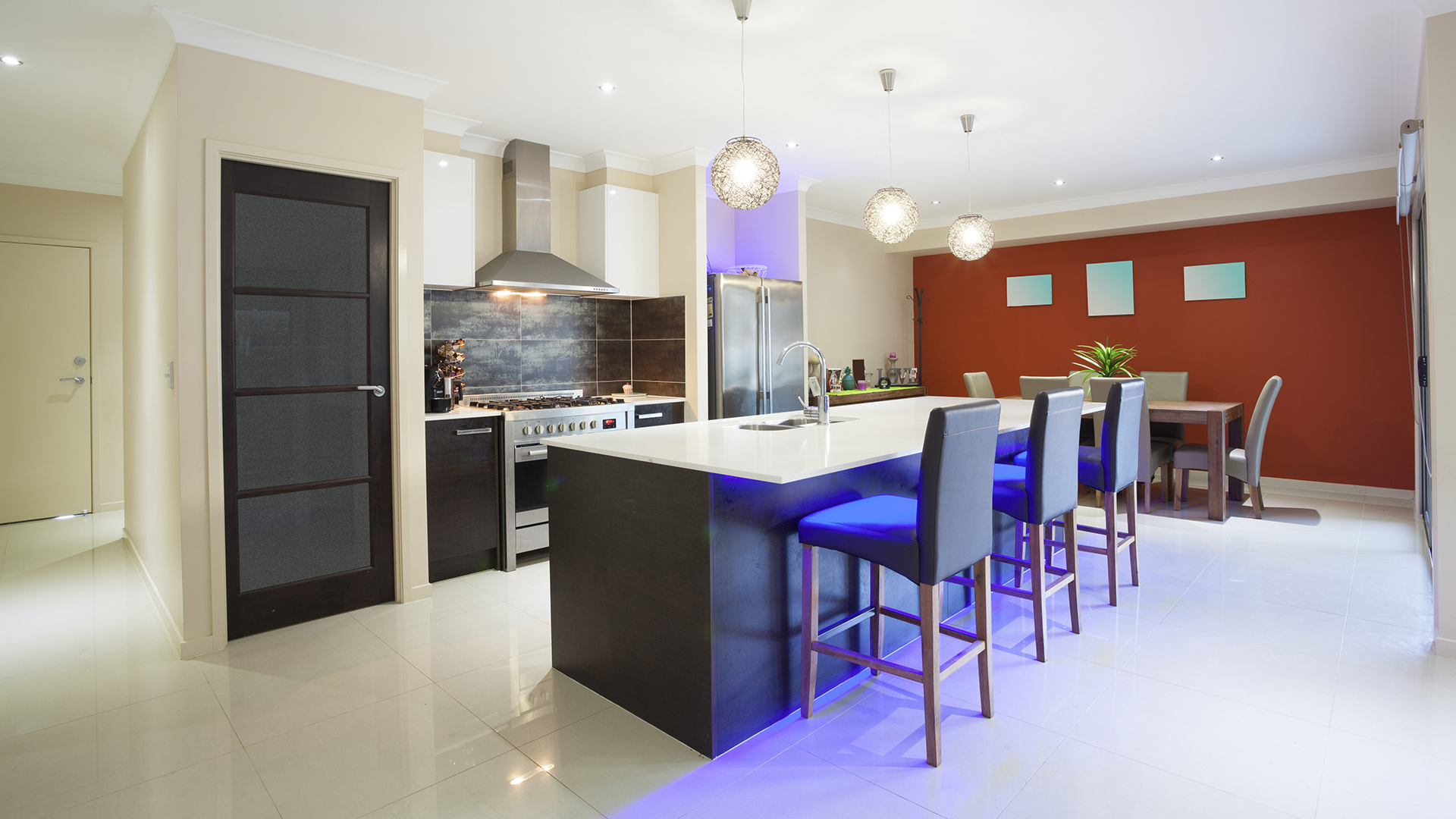 Within the kitchen, there are a variety of areas that lighting can be used to enhance the overall atmosphere and provide additional illumination in a central part of the home.
Cabinetry: Under-surface task lighting is used even in professional kitchens, where lighting makes the difference between a beautifully-presented, gourmet dish and something you could get off a serving line. LED track lighting is ideal for this, as it has all the aforementioned energy efficiency with the ease of a DIY install.

Shelving: Use LED lighting with shelving to showcase your fine china, fun dishware, or family keepsakes. This has a similar effect to the above, in that it brightens the overall space while creating interest in whatever objects you choose to highlight.

Toe Kick: This one is more of a decorative touch, as toe kicks don't particularly require lighting, but the look can definitely rejuvenate a tired or old-fashioned kitchen. Use the color variability tool that comes with many LED strips, which is a fun twist to spice up this look in bars, restaurants, and even homes.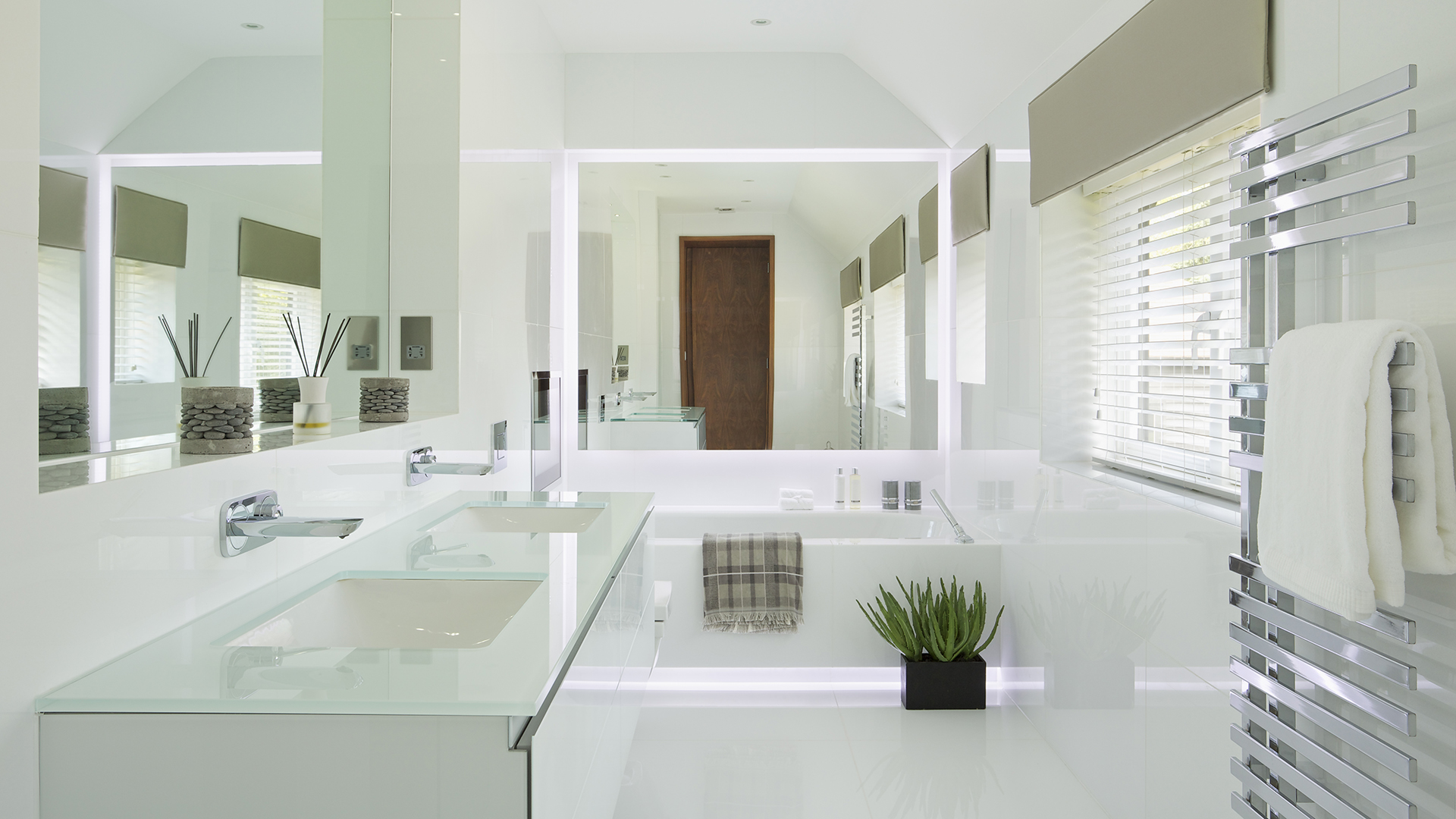 In bathrooms, LED lighting can create a spa-like feel, accent various aspects of the home, or be task lighting for getting ready.
Mirrors: This is crucial in vanity areas, both residential and commercial. Lighting should come from the front to adequately display features to their best and ideally, the lighting will look as natural as possible. LED strips are also a shoo-in for this, as extending singular bulbs along the length of a mirror wastes not only time but quite a bit of money in the long run.

Interior of Cabinets: This has a different appeal than kitchen cabinetry lighting, in that this one allows you to view your toiletries and assorted goods without having to dig through them. The back of the cabinet is always a dark hole, so illuminating the inside with some properly-placed strips can cut back on time spent searching.

Wall Base for Spa-Like Ambiance: Everyone thinks soft, gentle lighting when they think of a spa. However, getting a nice, radiant look from LEDs is a simple as a bit of fine-tuning. Choose a strip with multiple color options, and opt for dimmer over brighter.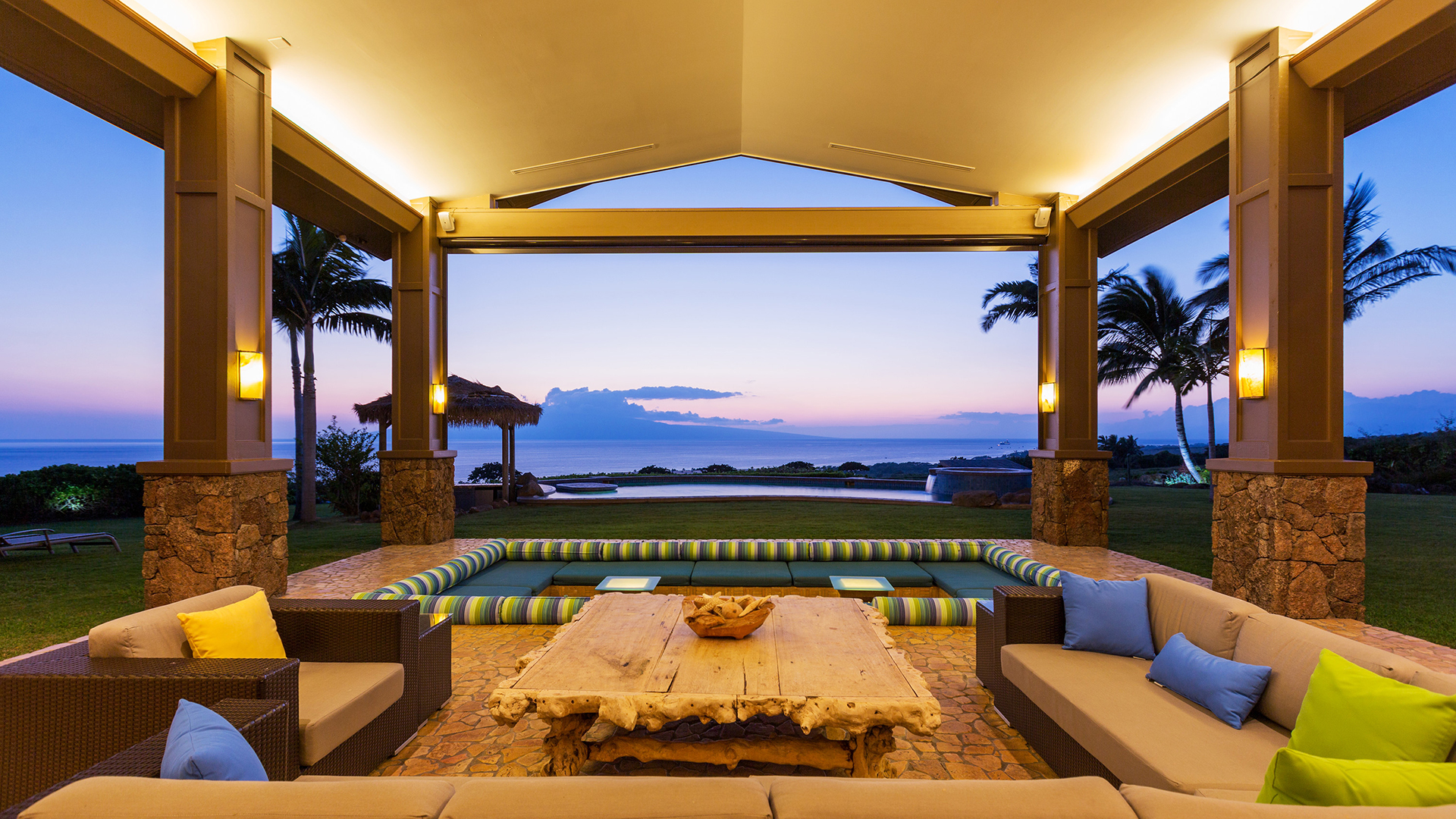 We may not think about it, but the outdoors also needs lit up: particularly if the space is meant for entertaining! A few places where lighting is beneficial to both homeowners or business owners, and guests, are below.
Outdoor Kitchen: It's best to stick with LED lighting for outdoor use. LED lights have made significant progresses and now have the ability to be dimmed, come in a variety of colors: even color changing!: and are more energy efficient than before.

Pools: Pool lights are nothing new, but using them as a conversation piece may be unusual. The slow rotation of a multicolored pool light could now become on demand. Homeowners or apartment buildings could opt to select one specific color in honor of any given theme. Additionally, added personalization of lights in regards to settings, dimness, and more, can make the pool a much more enjoyable experience.

Outdoor Cabinetry: Lighted outdoor cabinetry could be a lifesaver at dusk or night: during times when natural lighting is low and a flashlight may be cumbersome or just may not cut it! This would be particularly useful in tool sheds, community areas, garages, and outdoor kitchen or bar areas.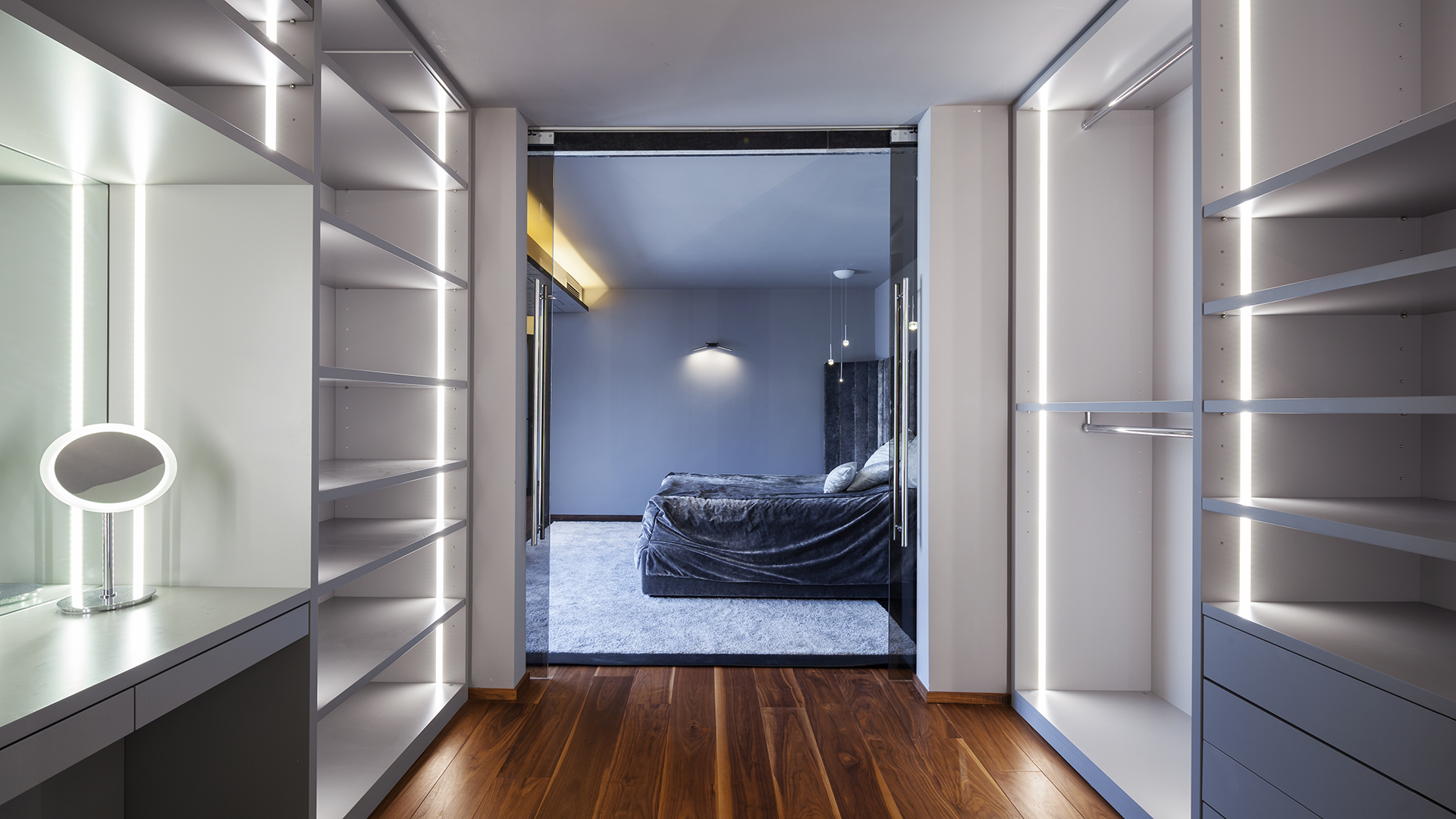 Bedrooms generally have plenty of overhead lighting and lamps, but keep in mind that lighting in key areas can help ease daily functions.
Under-Bed Lighting: A little hint of light under a bed can scare the bogeyman away, ease a child's nightmares, and be an easier method of having to wade through whatever is stored under there. Aside from the fantastical elements of an under-bed night light, the constant reminder of your things stored in this hard-to-reach space can keep you more organized and put together.

Closets: The applications for track lighting or LED strips in closets is nearly endless. From showcasing favorite accessories and shoes, to lighting hanging racks and deep shelves, lighting can make all the difference in how the closet is experienced. A place of clutter or an organized, well-lit place of plenty? Take your pick!

Shelves: In the bedroom itself, illuminated shelving can take on many looks. It can show off toys, books, and keepsakes in a child's room or display family photos and mementos in a loving parent's room. In this case, the tone, brightness, and saturation are all dependent on the surrounding space and your taste. Colored lighting is your newer, modern "paintbrush".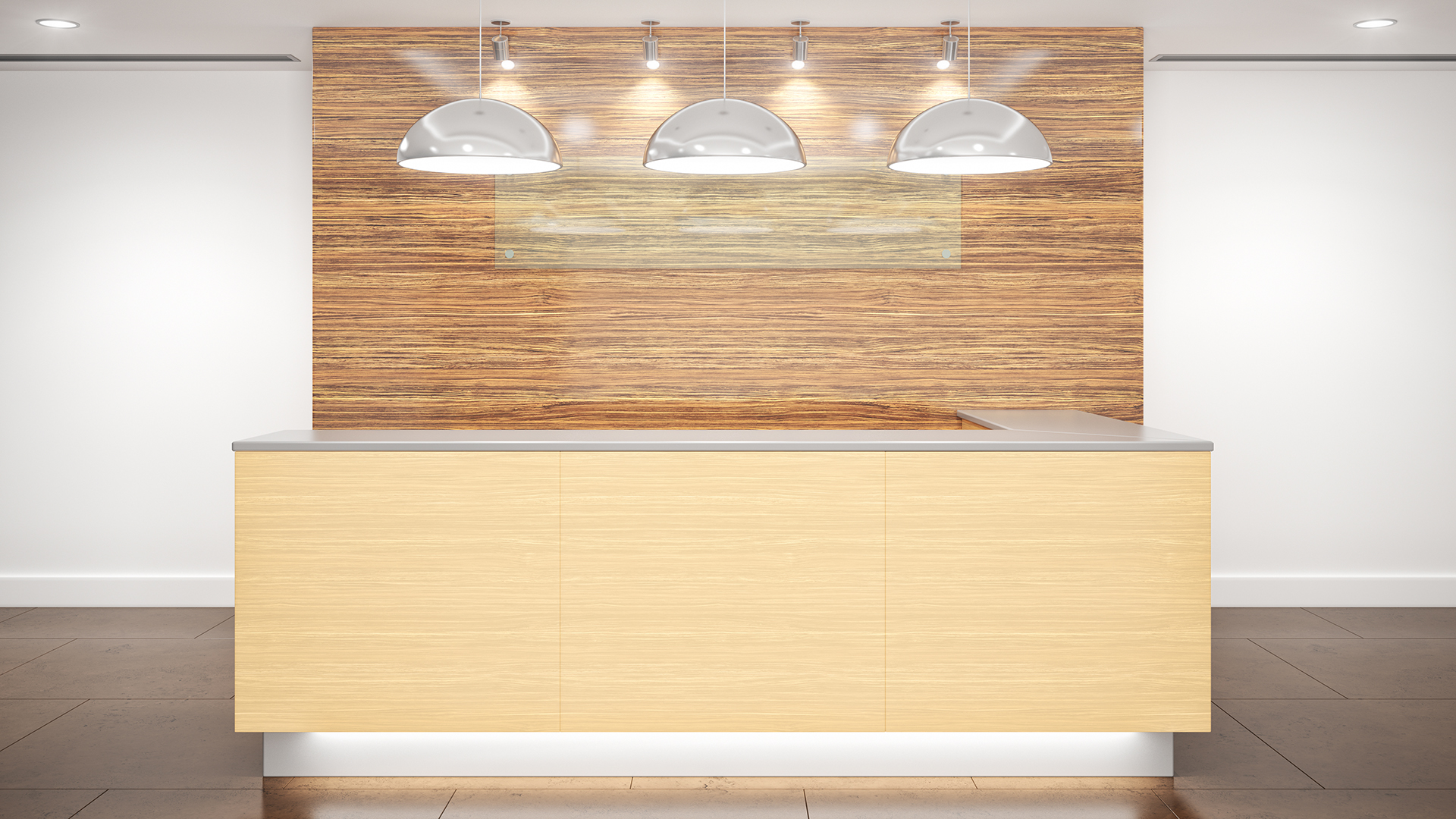 In commercial spaces, first impressions are everything. Everyone remembers that suspiciously dimly-lit restaurant they once went to and vowed to never go back. Don't be that place. Instead pay attention to a few key areas that should be lit for maximum "wow" factor.
Retail Displays: LED strip lighting is particularly useful in commercial & retail spaces. Shopkeepers or fashion designers may want to draw attention to a specific piece, and using a lit shelf or display is a sure way to do just that. Draw in the customer's' eye, and possibly their purse strings, with a beautiful display.
Dressing Rooms: Tone is of the utmost importance when lighting this area. Consumers have been tested to prefer flattering, warm lighting when trying on accessories or clothing, rather than bolder, brighter lighting, which would be more at home in a dance club, bar, or restaurant. Use LED strips around mirrors and softer overhead lighting to retain the beauty of the space and flatter potential buyers.

Reception Area Toe Kick: Give the front desk of your space a bit of pizzazz with a lit toe kick. The reception is the customer's first impression of your company as a whole, so make it an amazing one with colorful or ambient lighting. This technique would be at home in salons, spas, restaurants, staffing & other agencies, hotels, and much more.

Restaurant Restroom Vanity: While people spend much more time in their personal bathroom than in any given restaurant's restroom, the impression made in an high-end establishment should be one of luxury. Create that air in a restaurant bathroom with high-end materials and design and ambient lighting. Light the vanity to give both women and men a place to powder & primp.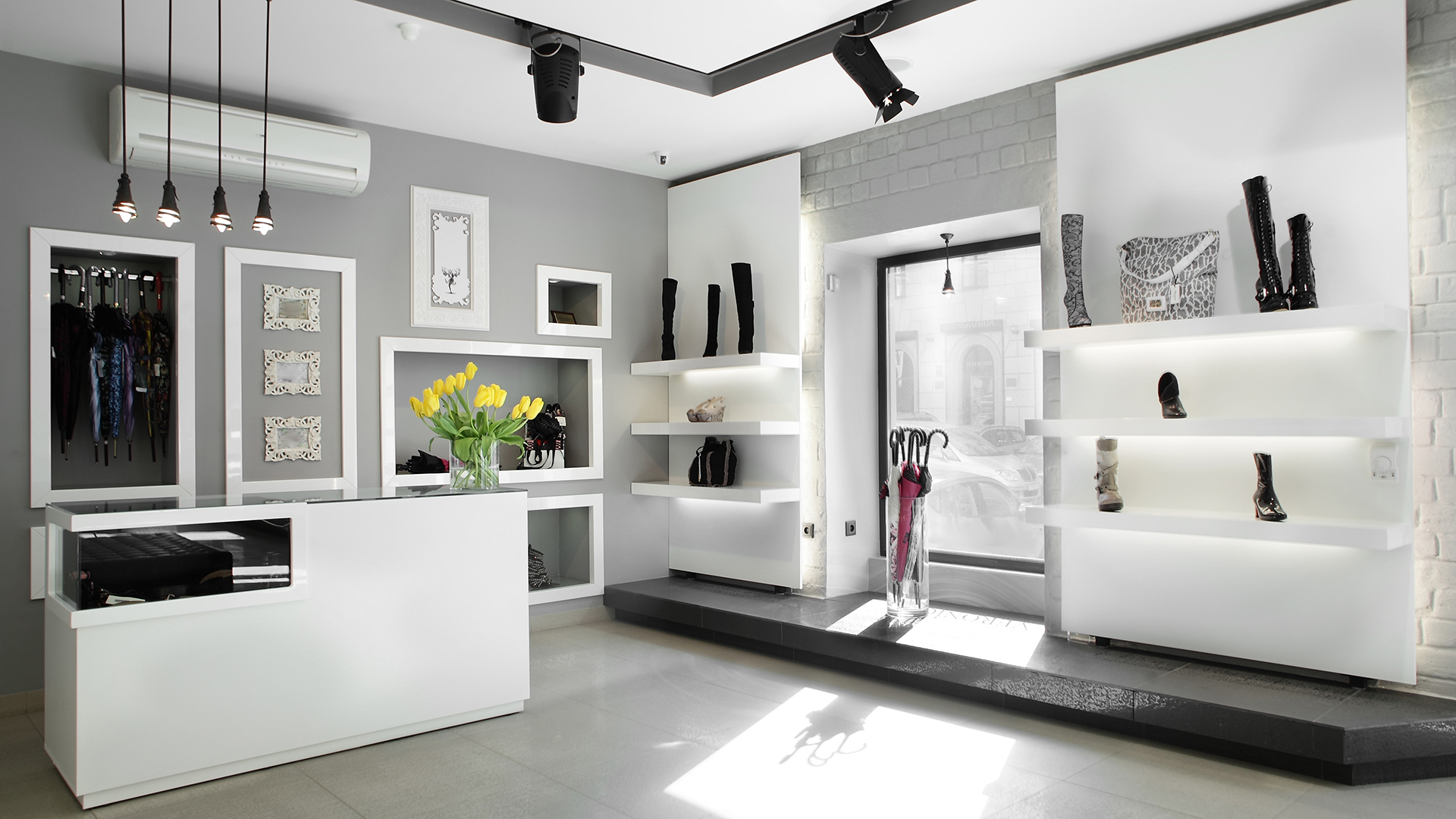 There are many other ways to brighten your home or commercial space with carefully placed lighting, but these are some of the best and most necessary ways to incorporate this versatile and efficient accessory in your space. Find out more at www.federalbrace.com or by viewing our Lighted Resources.