Spotlight: Osborne Wood Products, Inc.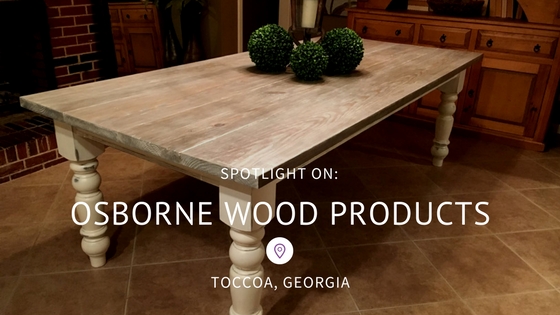 Federal Brace is spotlighting our awesome distributor from Toccoa, Georgia in the lovely Appalachian foothills of the lower-southeast United States! Osborne Wood Products, Inc., a long-standing distributor and believer in Federal Brace's hardware supports, also provides their clientele with premium crafted wood table legs, island legs, corbels, moulding and more. Established in 1979, Osborne has expanded their clientele internationally, delivering decorative wood components and hardware to cabinetry and furniture professionals, hobbyists, and DIYers. Their high standard of excellence determines that each product is delivered in only the best of conditions—each piece goes through a multi-step quality check before being shipped so that any possible defect can be eradicated.
Excellent craftsmanship is evident in Osborne's furniture and island legs.
Their mission, as a company, is to not only serve their customers with the utmost professionalism and speed, through delivering high-quality products to their customer-base within the US and internationally as soon as they can, but also to spread love while they do it. Their customer service team excels at this, aiding many customers at selecting products, whether custom or stock, that will turn their design dreams into a reality. Their shipping team is dedicated to their standard of shipping out on the day of order and their experienced craftsmen use only the most recent and innovative technologies in order to create their beautiful works.
Osborne Wood's kitchen products show beautiful detailing!
Osborne Wood Products, Inc. promises nothing less than the best and Federal Brace is so proud to partner with a company that promises excellence. Find out more about Osborne Wood Products online at www.OsborneWood.com and join us at www.FederalBrace.com to learn more about the awesome businesses that spread Federal Brace supports around North America!