Federal Brace's Wood Species Guide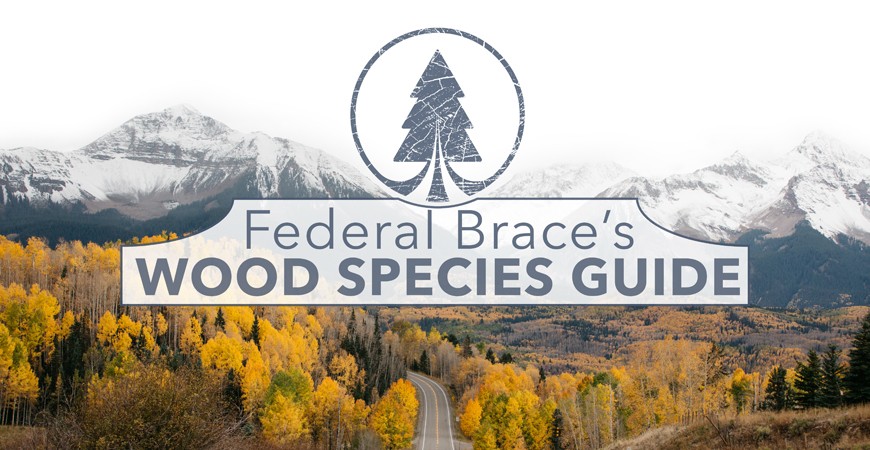 Posted on
08/20/2018
by
1192
Wood you believe that there are more than 60,000 species of trees populating our planet? With all that variation, it can be difficult keeping up with all the features, benefits, and drawbacks when choosing a wood type for an upcoming project. To help simplify the process, we've compiled a handy guide of wood types you'll likely encounter when planning your residential or commercial project. Whether you're an amateur woodworker or a sharpened veteran in need of a refresher, we've got you covered.
Let's start with the basics. Wood species fall into 3 distinct categories: hardwoods, tropical hardwoods, and softwoods.
Hardwoods: These trees produce fruits or nuts and typically go dormant in the winter, after they've shed their leaves during autumn. Any species of hardwood can be crafted into a durable, long-lasting piece of furniture, cabinetry, flooring, or millwork.
Tropical Hardwoods: These trees are not indigenous to North America and generally cost more to transport. While tropical hardwoods can be used for applications such as flooring, they often differ greatly from American hardwoods in color, grain pattern, hardness, and luster.
Softwoods: These woods have a lower density, creating a softer and more pliant material than hardwoods. Softwoods are primarily used for structural lumber such as 2x4s and 2x6s, and can also be integrated into flooring, panelling, and other home decor elements.
When it comes time to determine which wood species to use for your home or commercial design, weighing the pros and cons of each wood category can help you decide what will ultimately work best for you.
Now we'll look at 11 of the most common wood species. Remember, there's thousands upon thousands of possible choices, but we'll be focusing on just a sampling of the most popular.
Poplar/Maple: Both poplar and maple wood are smooth options that won't warp or shrink. However, neither take stain well, and are typically just finished or painted over. On the one hand, poplar is often used in upholstered furniture framing, but due to its softness, isn't commonly used in other applications. Conversely, maple tends to be used throughout the home in flooring, kitchen utilities, and more.
Birch: Often mistaken for maple, birch is a fine choice when creating a structural support. However, it's a hard wood to cut and finish, leaving it a less-attractive option for everyday applications. Birch plywood on the other hand, is a go-to in the cabinet industry, where it removes the need for a lumber face-frame.
Oak: Oak wood is definitely a strong and durable choice. It is naturally an attractive lighter color, but has large pores which allows it to take stain very well. Oak wood has straight, prominent grain and is commonly used for making long-lasting furniture that is often passed down for generations.
Fir: This is the stereotypical "Christmas tree" tree. It's mostly used in 2x4s, but can also be used for flooring. Most opt to leave this reddish brown wood unstained, adding a clear varnish for a small enhancement.
Pine: A softwood that is often white or a pale yellow in color, pine features a straight grain that easily takes stain - as long as the wood is sealed first. It's a very easy wood to work with especially when carving, and resists shrinking or swelling, making it ideal for locations where temperatures fluctuate.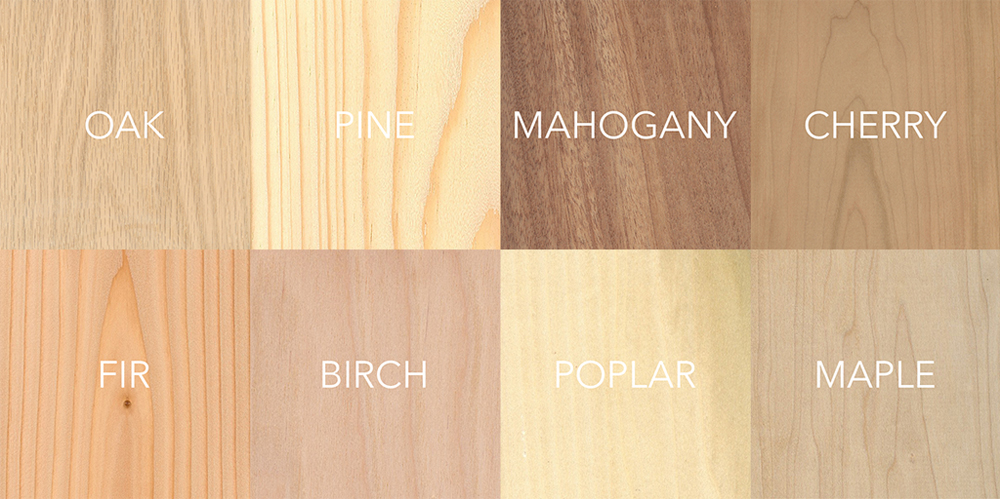 Mahogany: Mahogany has long been a favorite for crafting furniture and cabinets, given the large girth of its trees. It's a durable and strong choice, with a reddish-brown color than shines well when polished. Some homeowners opt to stain their mahogany, but most prefer leaving it natural, as the wood tends to naturally darken over time, leaving a beautiful patina.
Cherry: Cherry heartwood varies from a bright, poppy red to a darker red-brown in color, and, similar to mahogany, darkens with age. However, the sapwood of the tree is a creamy white. Both parts of the tree have a very uniform grain with a smooth texture, and can contain natural variations. Cherry is commonly used in furniture making and, like mahogany, finishes to a natural, beautiful sheen through polishing.
Walnut: This versatile pick ranges from a light to rich chocolate brown color. Dense and shock resistant, walnut has been a long-time favorite among furniture makers, car manufacturers, and gun makers.
Cedar: Native to areas around the Mediterranean, this evergreen tree produces a light wood that is rot resistant, making it great for outdoor use. Several varieties are also bug repellent - perfect for storage chests, bird feeders, and more.
Cypress: Coming in a light to yellowish brown color, this durable wood features a straight grain and typically coarse texture. It's a staple in exterior construction, including docks and boat building.
Regardless of your installation or design needs, there's definitely a wood species that will fit perfectly. With a variety of densities, grains, hues, and textures, wood is a classic  resource for any home or design theme, and incorporating it in corbels, flooring, or cabinetry is as easy as doing a bit of research or asking your local designer.
Speaking of wood - this week from Aug 22-25, we invite you to join Federal Brace at the International Woodworking Fair in Atlanta! Stop by booth 25