Tips to Make the Most of a Trade Show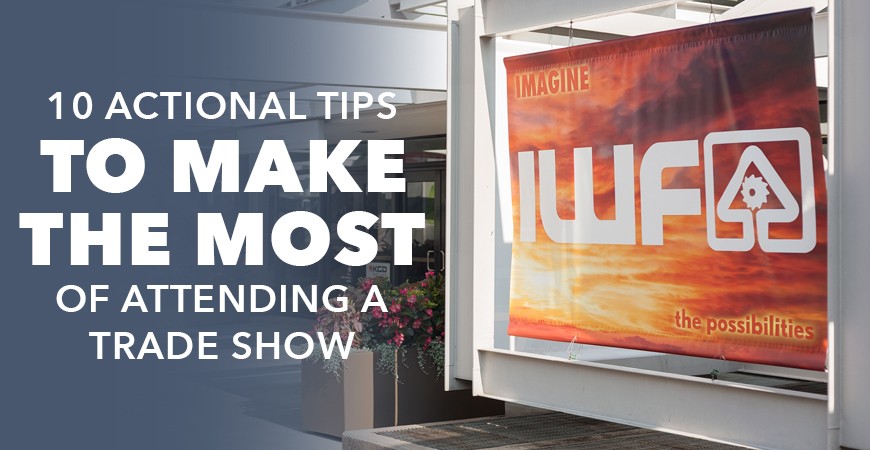 Posted on
09/05/2018
by
769
Fresh from the 2018 International Woodworking Fair, here are some (before, during, & after) insider tips to make the most of any trade show experience!
#Iwfatlanta is the largest showcase of machinery, materials, supplies and services in the Western Hemisphere for woodworking and related industries. It's an opportunity to learn, network and make new connections with 30,000+ woodworking industry professionals & 1,000+ exhibitors showing the latest in product innovation, technology, material advancement and design.
Trade shows are an important business tool and can be ideal venues to unveil new products as well as meet fellow professionals in your industry.
Before the Trade Show
Track down the list of companies that will be in attendance. Make a list of people you want to meet (specific contact names &/or specific roles within that company) & where those booths will be located.
Wear comfortable shoes!
Research the trade show hashtag. Using the correct event # on your social media enables you to participate in the trade show conversation and to become aware of a new network of people with shared interests (and what they are experiencing at the event).
Plan to attend the opening/welcome reception, networking events, and all educational sessions that interest you. Schedule accordingly.
During the Trade Show
ASK questions! Be active in your quest for information. Keep pen, paper, and/or a smart device handy to record your answers. Don't forget business cards!
Find a co-worker, associate, or industry contact to "work the room" with. Introduce each other to new contacts for unlimited networking potential.
Be sure to ask before taking any photos or video. In most cases, unauthorized photography and video recordings are not permitted in exhibit halls due to trademarks, pending patents, etc.
Manage your time effectively. Consider skipping overly crowded booths at peak times. Traffic is generally slower at the end of the day. Head back later in the afternoon to any previously skipped booths.
SNAG some SWAG (pens, bags, measuring tape, stickers, etc.)!
After the Trade Show
Use email & social networking sites to keep in touch with your new trade show contacts. LinkedIn, Facebook, Instagram, & Twitter are great resources to keep up with people you've met and want to develop business relationships with.

Ready for more? Check out this video for an International Woodworking Fair 2018 (IWF) - SHOW RECAP! https://youtu.be/SbABHwUySgo