Compounding Holiday Fun & Festive Flavors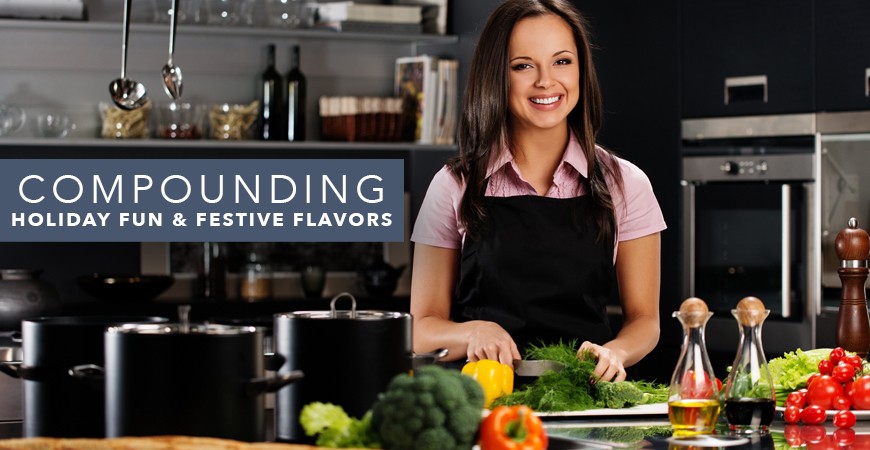 Posted on
11/01/2018
by
1319
There is nothing more enjoyable than a thoughtfully planned holiday meal. From a casual supper gathering to an elegant dinner, some of the best kept secrets for entertaining are compound - compound butters! These easy & practical no-bake ideas add remarkable depth to traditional holiday foods. While the concept is simple, the potential combinations for melt-in-your-mouth flavors are endless. Placing several chilled compound butter options on a holiday table will bring extra excitement to the meal & will have your guests talking.
Start with fresh room temperature butter & compose. Compound butters can be made with any of your favorite seasonings as well as some unexpected but noteworthy flavor profiles. Cracked or ground spices, mustard, capers, worcestershire sauce, cocoa, maple syrup, green tea powder & citrus zests are just the beginning. Chop herbs, ginger, shallots, garlic, scallions, chives, anchovies, dried fruit, & cheese on a stain resistant, non-porous, durable surface like a stainless steel countertop for easy clean up. Please note --  fresh herbs (marjoram, dill, tarragon, etc.) -- should be very dry before they are minced & added to the compound butter creation.
Next, put the butter & selected chopped components in a bowl (or food processor with a paddle attachment) & blend. In some cases, you'll want all the ingredients to be incorporated very thoroughly. Other times (application dependent) it will be best to have ingredients swirled in a marbled fashion.
What if you don't eat dairy? Coconut oil, which softens very easily & solidifies in the fridge, makes a great butter substitute. Of course, it will lend a coconut taste to the "butter" - but that can only be a good thing when you add complementary ingredients, such as curry powder, lime juice & cilantro. What about salt? Though you may prefer your plain butter unsalted, a little fine sea salt really helps bring out the flavor of all the ingredients in a compound butter.
After the butter (or butter substitute), salt, & desired ingredients are blended - begin to wrap the compound butter mixture up tightly. Place a sheet of parchment paper, wax paper, or plastic on a stainless steel countertop, then fold the soft blended compound butter into the center of the paper or plastic. Roll the bottom half of the paper or plastic over the top of the butter mixture. With one hand, hold the bottom layer steady & with the other hand pull the covered butter towards you. Wrap your fingers tightly around the butter mixture working it into the shape of a tube. Twist the ends of the paper or plastic covering (sealing the compound butter) & refrigerate until hardened (about 2 hours). Pro tip #1: Make several compound butters days before the holiday meal. Spend the holiday around the table instead of over the stove. Compound butter will keep in the refrigerator for several days or in the freezer for a month. Pro tip #2: Make several extra compound butters to freeze for holiday hostess gifts & for when visitors show up with unexpected gifts during the holiday season.
Pumpkin & Spice Compound Butter
8 ounces of butter

2 1/4 Tbsp. pumpkin puree (canned or fresh)

1 Tbs. brown sugar

1 Tbs. honey

1/2 tsp. ground cinnamon

1/4 tsp. dried ground nutmeg
Perfect for the holiday season or an indulgent treat anytime, Unwrap the chilled Pumpkin & Spice Compound Butter & slice into medallions. Place medallions onto warm breads, croissants, scones, pancakes, waffles, cornbread, or french toast.
Herb Compound Butter
8 ounces of butter

2 Tbsp. chopped herbs (such as parsley, thyme, rosemary, & oregano)

1/2 tsp. salt

1/2 tsp. ground pepper
Serve sliced Herb Compound Butter medallions over steamed, roasted, or grilled vegetables, baked/grilled chicken, steak, or hot dinner rolls.
Lemon Basil Garlic Compound Butter
8 ounces of butter

1/4 cup of basil (finely chopped)

1 garlic clove (finely minced)

1/2 tsp fresh lemon zest (usually 1 - 2 lemons)

1/4 tsp. ground pepper
Serve sliced Lemon Basil Garlic Compound Butter medallions over grilled fish, hamburgers, baked potatoes, baked pasta, or crusty french bread.
Whether your guests are in the mood for flavors of the season, a cheese-infusion, aromatic spices, or a hint of sweetness, the end result will be nothing short delightful buttery goodness. Achieve a low maintenance holiday & a clean chef's kitchen look with Stainless Steel Countertops from Federal Brace. Check out www.FederalBrace.com or call toll-free (877) 353-8899 during business hours EST for additional design assistance.