Fernweh & Food + Federal Brace | D.C. Blog Takeover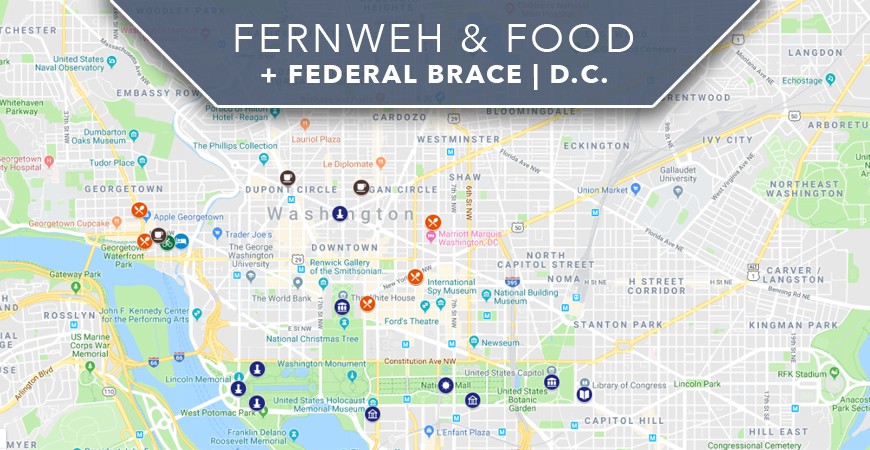 Posted on
01/02/2019
by
812
Despite being on the East Coast, it could be argued that Washington D. C. is the center of the United States in most ways that matter. The seat of all three branches of government (judiciary, executive, legislative) & home to many of the most powerful figures in the USA & the world -- the capital city is an important place to visit -- best of all, many sites & tours are FREE (read: government funded)! Here's my quick guide to the best places to eat, drink, stay, & get down in D.C. Stay tuned to see how you can win 3 days at the Four Seasons in D.C.!
Favorite Restaurants in the District
Politicians must wine and dine, and D.C. is full of great places to do so. Rub elbows with representatives, young business people, and fellow tourists by heading over to one of the oldest restaurants in the nation. Old Ebbitt Grill, located a few blocks from the White House, has an extensive oyster list and a great bar for schmoozing and boozing.
A bit further away lies the joint brainchild of exceptional chef David Chang and brilliant baker Christina Tosi. Eat your fill of Momofuku CCDC's seasonally rotated, globally-inspired menu and then back it up with Milk Bar's famed cereal ice cream, birthday cake, crack pie or the BFCs (best freaking cookies) you'll ever have. Another lunch or dinner option that's a bit less formal? &pizza, a make-it-yourself 'za joint which has several locations throughout the D.C. metro area. My favorite is the Georgetown one, which is surrounded by cute shops and streets to do some post-pie strolling.
D.C. is one of the few cities in the US with Michelin-starred restaurants, so why not splurge a little (you'll be able to after winning your three-day stay) and go to one? An awesome farm-to-table that makes healthy foods into some of the most beautiful and delicious you'll ever feast your eyes and taste buds on? The Dabney. Fresh ingredients make for good food almost always and the chefs at The Dabney know this to their core. If you're looking for a less healthy option, Filomena Ristorante serves up classic Italian dishes in a space just like your Nonna's dining room.
Favorite Cultural Activities
Tickets are needed for tours of some of the most important buildings in American history—the White House, the Library of Congress, the U.S. Capitol Building. Several of them can simply be made online, but if you can't find an open time slot, contact your Senator's office to check for availability. Go to these not only for the obvious culture significance, but to find the little things that our nation finds important. The U.S. Capitol Building has enshrined the place where Andrew Johnson used to have a desk. The Library of Congress, an amazing repository of many of the nation's best literary works, also houses a Gutenberg Bible, the first map to name America "America", and the smallest book in the world circa 1985—you'll be shocked at how tiny it is.
Other cultural hotspots include the Lincoln Memorial, Washington Memorial, Vietnam Veterans Memorial and Korean War Veterans Memorial—each sobering, and amazing, in its own way. Be sure to book about 3 hours for the US Holocaust Memorial Museum, which displays the horrific tale of the rise and fall of the Nazi Party in Germany and beyond. Be forewarned—some of the images and stories are gruesome, but you will leave knowing more history, and feeling it more personally, than before. Needing a pick-me-up? Catch some rays or go to one of the ELEVEN free Smithsonian Museums that surround the National Mall. A personal favorite? The National Air & Space Museum, which shows off air-worthy crafts from the Wright brothers to now.
Off the Beaten Path Activities
Visit a lesser-known Smithsonian at the National Arboretum, where you can find a slice of home at the State Tree Grove. Each state is represented, with Californian giant sequoia nestled alongside Alaskan Sitka spruces and Florida's Sabal palmetto. Get a little religious at the Cathedral Church of Saint Peter and Saint Paul in the City and Diocese of Washington, more commonly known as the National Cathedral. More than a house of worship, the Washington National Cathedral is the place of rest of many of the most famed figures in American history—Woodrow Wilson, Helen Keller and her loyal companion, Anne Sullivan, and other foreign dignitaries. Additionally, and potentially more intriguingly, a gargoyle shaped like Darth Vader. Pick your poison—some cool graves or the betrayer of the Jedi?
Literally off well-trodden paths of the city, the C&O Canal Towpath offers beautiful views along the Potomac River and ample opportunity for biking, hiking, or photographing your way from Washington D.C. all the way to Cumberland, Maryland. If a long trek isn't on the map for you, there are several towns that make a fun day trip. Try out Harpers Ferry, WV or Brunswick, MA.
Best Places for a Great Cup of Coffee (or Tea)
One of my favorite places in D.C. for coffee is Kramerbooks & Afterwords, a bookstore and cafe with all of my favorite aesthetics. Get a taste of the West Coast with Blue Bottle Coffee. Originally from Oakland, California, and ever-present in my current home, San Francisco, Blue Bottle has a near cult following across the country. Grab a pour-over or a NOLA chicory-laced iced coffee on a hot D.C. summer day. Alternatively, you can take a trip across the pond (or just down to Georgetown) for a nice English tea time and delicious French macarons at Ladurée.
Stay
Now that we've toured and caffeinated, let's get the essentials out of the way. Finding a place to stay can make or break a vacation and you'll want to make sure your hotel, AirBnB or resort is visitor-approved. Federal Brace has partnered with the awarded Four Seasons in Washington D.C. to offer the chance to win a three-night stay! Along with your lodgings, you'll receive delightful three-course meal for two at Bourbon Steak, a premier restaurant in D.C. with a sommelier-approved wine complementary of Federal Brace. Find out more about how to win online with the Federal Brace Sweepstakes.
Love,
Fernweh & Food
About Fernweh & Food: Fernweh is a 21-year-old wreck ahem Marketing Manager hailing from the great United States, who uses her flexible job, inflexible bank account, and inordinate amount of wanderlust to travel the world. She's visited 34 countries and hopes to double that number by the time she reaches that age. Eventual world domination being the end goal. Her hobbies include reading, writing, and not arithmetic, but she was a Mathlete as a child – don't hold it against her.
Food is an 18-year-old going on grandma also from the exact same place as Fernweh because they're sisters. While Food would probably rather be cooking, she doesn't entirely mind it when Fernweh makes her go to different countries, but she did mind that one time Fernweh made her go into their sixth museum of the day. She's been to 27 countries in her short life, and probably wrote reviews on 29 of them. Her hobbies include food, dancing in the shower, and coming up with Instagram captions for photos she hasn't yet taken.
Fernweh schedules the tours, trains, planes, and hotels while Food looks up the people to see and places to eat. It's functional dysfunction and we like it that way. See more at https://fernwehandfood.com/