The Multigenerational Restroom: Designed for Every Stage of Life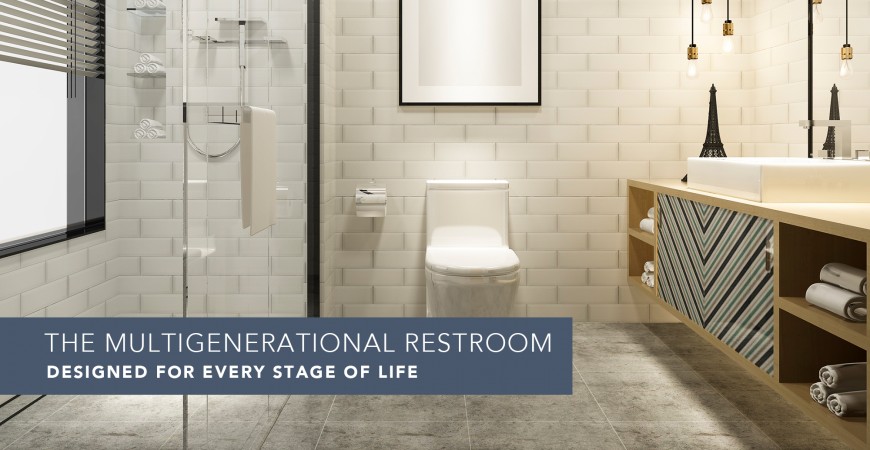 Posted on
11/14/2019
by
361
The bath is the most significantly identifiable room in the home to reflect changing habits in different stages of life. As young children are gradually introduced to personal hygiene from teeth brushing to handwashing - their parents in contrast rarely (if ever?) get a moment's peace in the bathroom - should the moment of peace and quiet present itself, a parent will certainly be multi-tasking while hanging out "in the office". Teenagers spend all their available free time in front of the mirror during washroom occupation (domination!), while adults and older people enjoy using modern, practical bathroom accessories and convenient personal aids in the loo. All these groups -- regardless of age -- desire bathroom independence, safety, comfort, aesthetic appeal, and maximum individual mobility.
Builders and designers carefully create mindful restroom designs that address the requirements of more than just one age group. Ideally, the bathroom should be designed to suit people of all ages while extending the lifespan of the bathroom by keeping current and future needs in mind. Beyond the expected restroom fixtures required by building code, additional bath items of utmost importance from a multigenerational design perspective include proper lighting, handrails and shower benches for support/stability, ADA compliance, as well as accessible/adjustable shelving in cabinets.
On November 13, 2019 Federal Brace participated in the Twitter #KBtribechat (Kitchen and Bath Industry Chat) focused on "What Key Elements and features Define a Dream Bathrooms". Topics explored included materials, colors, and design aesthetics, technology and storage solutions for every stage of life. Gain some multigenerational bathroom inspiration by catching all the tweets on our Twitter channel here > https://twitter.com/FederalBrace or by searching #KBtribechat on Twitter.
Learn more about the best ways to add longevity and aesthetic appeal to every bathroom project by joining Federal Brace for the "Bathroom Trends and Research Revealed" Webinar on December 4, 2019 2:30 PM EST. Speaker Lisa Hausman, Vice President of Industry Marketing for Houzz and moderator Patrick O'Toole, Owner/Editorial Director of Qualified Remodeler Magazine will be covering the reign of the shower in master bathrooms, restroom investment - how much are folks spending?, a relaxing sanctuary (cleanliness and a lack of clutter + neutral tones rule on walls and counters), styles go transitional/modern, mirrors and other accents, features on the rise, etc. To RSVP for this event click here > https://register.gotowebinar.com/register/4704345564669097473
Get started today by incorporating smart solutions into bath interiors for multigenerational use with Federal Brace. From Eco-Lucent LED lighting to beautifully crafted bathroom supports for floating vanities and shower bench brackets, and beyond - check out www.FederalBrace.com or call toll-free (877) 353-8899 8:30AM - 5 PM EST for additional ideas & design assistance.