Island or Peninsula
Islands come in all sizes and shapes and there are just as many support options. So why not choose to show a little leg. While the traditional look has been to use a carved wood leg, jazz it up a little and use some metal. Carved wood legs add a lot of weight and can drag down a smaller space while a stainless steel contemporary leg can be sleek and smooth. Peninsulas as their name suggests extend off one end of your cabinets or island. Both will look sleek and modern with a metal support leg.
Things to Keep in Mind
Be sure to take in the overall shape and style of the island and the kitchen. If going for the jazzed up contemporary metal leg look, make sure it will fit in with the overall style of the kitchen. Is it a modern kitchen? Or more traditional?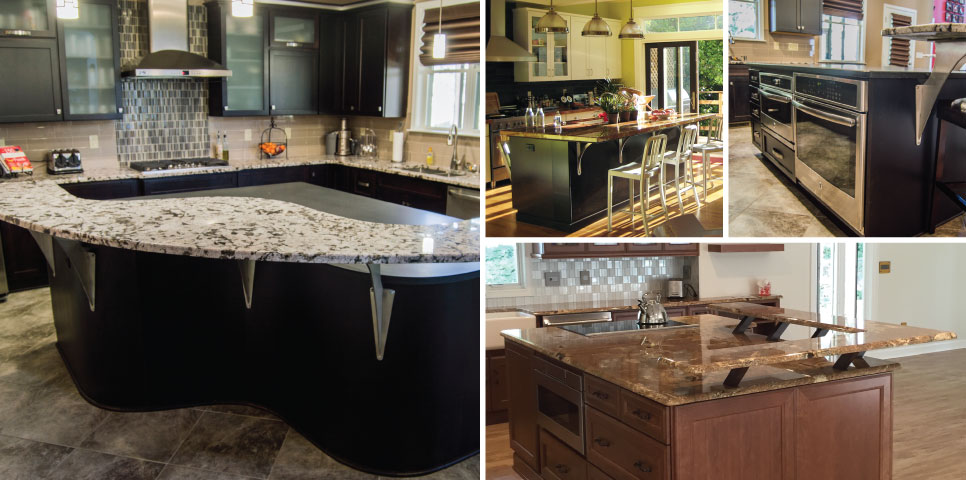 How's the rest of the architecture in the room? Is everything square or angled? Select a round style leg or one with curves to break up all the angles or maybe adding one more sleek angle will just top it off. It's really up to your style.

Will seating be added around this peninsula? Or is it just work space? Make sure you consider the overall space for stools with the design style of the leg. A good rule of thumb is for every 2.5 foot span you will need to place a leg support. Legs give the island a furniture-style look that some people like and can make a peninsula look more like a table.
Mix It Up
A metal leg while a bit more modern does mix nicely with the darker wood cabinetry that could be considered traditional. Most metal legs are slim and trim to really bring a modern feel. Stainless Steel cabinet feet can be used along with the legs to get the cabinets off the floor and make the island feel more airy and less heavy. "Beauty is in the eye of the beholder." Just pick what you like and let it all come together.