Use of Floating Vanity Mounting Systems in Bathrooms
The bathroom has always been an area of the home where décor trends to the minimalist approach. This is not to say that the bathroom is treated with limited decorative input. Indeed significant decorating measures are taken to make sure the bathroom is properly suited to the homeowners' or designers' tastes. No expense is spared to provide luxury in bath and shower fixtures, vanities and counters, flooring and lighting; every aspect is carefully selected to provide a spa-like refuge for both residents and guests.
However, despite the desire for a spacious, yet cozy, feel, many bathrooms are areas with limited space. No homeowner wishes to bump into cabinets or vanity seats while getting ready or after enjoying a warm bath. Therefore, many designers choose to focus on design that keeps the floor clean, limits bulky or cumbersome objects, and allows most accessories to be slim and trim. This keeps the spacious feel of a spa-bath while maximizing overall storage and aesthetic design.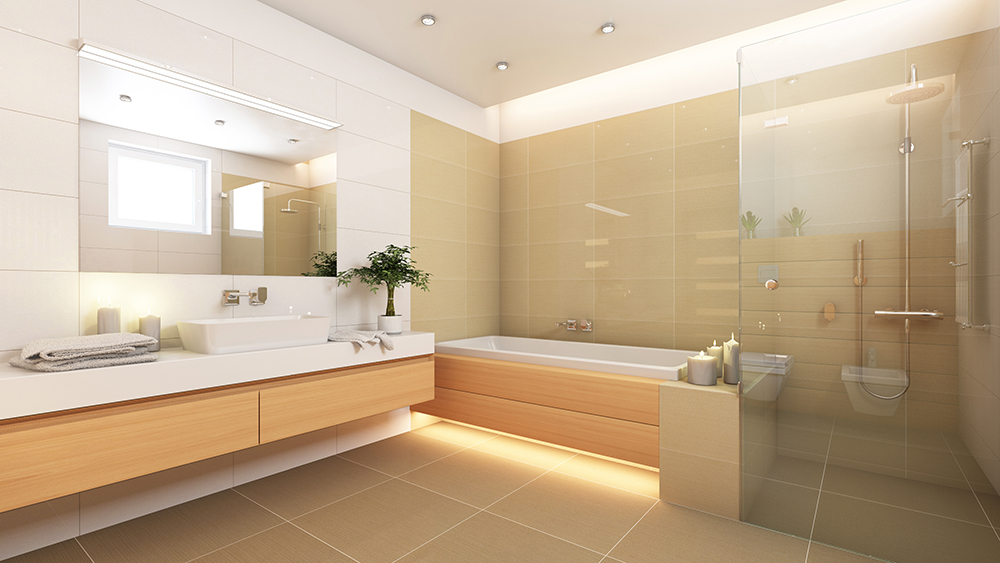 Ways to access this look are using large tile flooring, whether of natural stones or synthetic tiling, which promotes a clean and sleek look. Limiting cabinetry and opting to use decorative shelving rather than large storage areas keeps the walls clean of clutter.  Additionally, using a floating vanity or minimalistic vanity surrounding the sink area will create a more modern, spa-like feel to the overall surroundings. Using these simple interior design tricks will keep your bathroom, whether a home master bath or in a commercial setting, clean, sleek, and as relaxing as can be.
LINKS TO FLOATING VANITY SUPPORTS: