Maximizing Productivity in Your Workspace Environment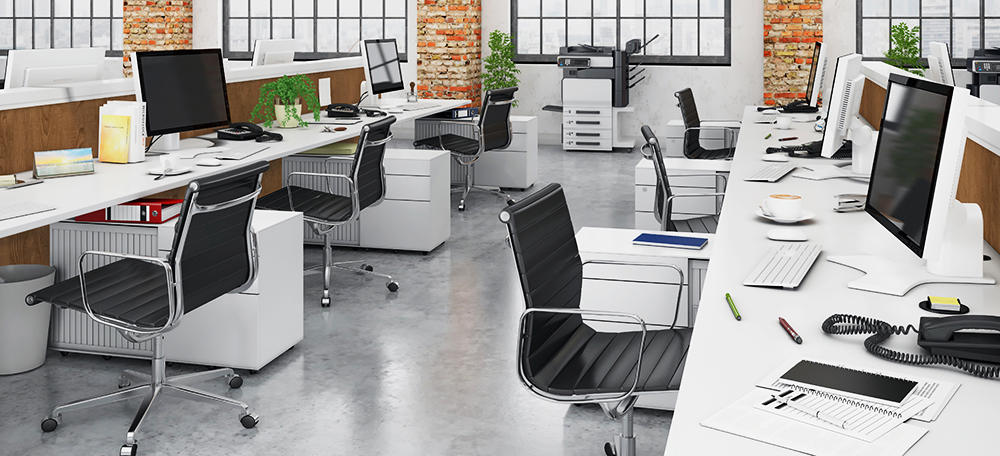 When entering a commercial workspace, one of the first things that stands out is cleanliness and design. A well-designed office is one of many factors that influence clients or prospective partners. Determining whether that space is productive is another matter entirely. To an outsider, a place of business can appear impressively busy, while internally the work may not actually be conducted efficiently. Every business should strive to produce an atmosphere of productivity and creativity within its workspace environment. Plan your next business venture with these few key considerations in mind and reap the benefits of a powerhouse workspace and a motivated team.
Seven Pillars of Productivity:
Lighting | Lighting should constitute the main area of focus when you are beginning to plan your productive workspace. The overall office design should emphasize natural light sources, which have been shown to

promote productivity

and produce a calming effect. In addition, each station should have its own personal source of task lighting. Adjustable lighting, such as lamps or remote-controlled LEDs, may be best for areas in which both creative and task-centric work will be completed. Overall, each workstation should be well-lit in order to reduce stress, prevent eye fatigue, and contribute to a more peaceful atmosphere.
Temperature | Workplace temperatures should be carefully modulated to maintain a comfortable office. Productivity and movement are directly correlated to human body temperature.

Researchers at Cornell University

have determined that 25° Celsius, or 77° Fahrenheit is the ideal workplace thermostat setting.
Color Science | Certain

colors can provide different mental benefits

and influence both incoming clientele's and employees' perceptions. Warm colors like red and orange encourage efficiency in detail-oriented tasks by promoting attentiveness and stimulating blood flow, however, these colors may also be perceived as aggressive or too bold. Shades of blue aid in concentration, communication, and trust-building, but can come off as cold. Green evokes thoughts of nature, creating a calming and creative atmosphere. Do your researching before painting your workstation area and it will pay off in the long run.
Standing | Let's move to the desk itself. Studies at multiple universities, including one by

Texas A&M University's Health Science Center School of Public Health

, show that standing desks can significantly improve workplace performance. According to this study, standing desk workers increased their productivity by 53% over their seated colleagues after only six months! With such vast benefits, it's clear that standing desks, created through using legs or utilizing a wall-mounted bracketed workstation, are workplace winners.
Ergonomics | Over 40% of workplace injuries come in the form of sprains and strains due to daily repetition rather than catastrophic falls or injuries resulting from lifting heavy equipment. Creating more ergonomically-oriented workstations can help alleviate these sorts of commonplace complaints. Specifically, the desk should allow the employee to stand with arms and hands parallel to the floor and their feet flat, whether standing or seated. Any office chairs should also be optimized for comfort, providing ample lumbar support and reclining at the optimal angle, which, for most is roughly 135°. Mesh is preferred over leather, which can become hot and uncomfortable in summer months.
Get Clean | The only things that should be within arms reach on the workstation should be objects directly tied to the job—a pen, notebook, phone charging stand, water bottle, coffee cup, and monitor. Everything else, including personal décor, should be stored or kept to a minimum to reduce distraction. Distraction-free workstations have been proven to be more effective than those cluttered with lots of unnecessary items. Instead of keeping everything on the desk, store supplies in handy desk drawers or filing cabinets. Even necessary tools such as external hard drives, cables, and computer towers, should be strategically hidden. Mount equipment to the walls, clear cable clutter and powerstrips off the floor with tools like multipurpose workstation brackets, and use 3M Command Hooks to attach headphones or other accessories to the side of your workstation.
Be Dynamic | Stagnation is the enemy of productivity. Unfortunately, most workstations remain the same for months at a time, and in some offices, the only thing that ever changes are the faces of the employees! This is why creating a dynamic environment where something changes every day is paramount. Add something new to the workstation, move furniture around, be dynamic, be exciting, do whatever is needed to keep the interest and intrigue up, and soon you'll see productivity rates rising.
Overall, optimizing your workspace for employee productivity and comfort can only increase the amount of company satisfaction and retention rates, decrease potential injuries to staff, and lead to an atmosphere of creativity and wellness. See how we can help you create more productive workstations at www.FederalBrace.com.