Wood Corbels - Why Reinvent the Wheel?
Why reinvent the wheel? It's something that has worked perfectly well all these years. It gets us where we want to go and is reliable. This phrase has been used time and time again for clingers-on of tradition to resist change. Whether that change, or innovation if you will, is a positive or negative matters not - what's good is good enough, and if it's not broke, don't try and fix it.



If everyone had this mindset, humanity would get next to nothing done. Chariots would still be ridden, houses would still be made of stone, and you'd have to bump and bumble your way over a dirt path on the way to work every day. However, it seems that as a society - and within our industries - we really are resistant to change. The same methods of installation, similar products and silhouettes are used year in and year out. Why change?
Wood corbels traditionally come with a keyhole mounting system that can prove difficult to install and get perfectly lined up with where your countertop will rest. This keyhole system also does not offer any weight bearing provision. Nice, expensive wood corbels also have the risk of being ruined when installed by driving a nail in from the front and filling the hole to make ready for stain. While this has worked for many years, it is time to move on to better methods of corbel installation.
We reinvent because by not consistently innovating, improving, and trying new things, we miss out on opportunity. Sticking with the same old opens up contractors and builders to missing out on advantages and falling behind as others choose to trend set with recent, innovative techniques, silhouettes, and products. By becoming this trend-maker, professionals are able to gain a competitive edge and keep their knowledge fresh in an industry where new patents, ideas, and methods are created each day.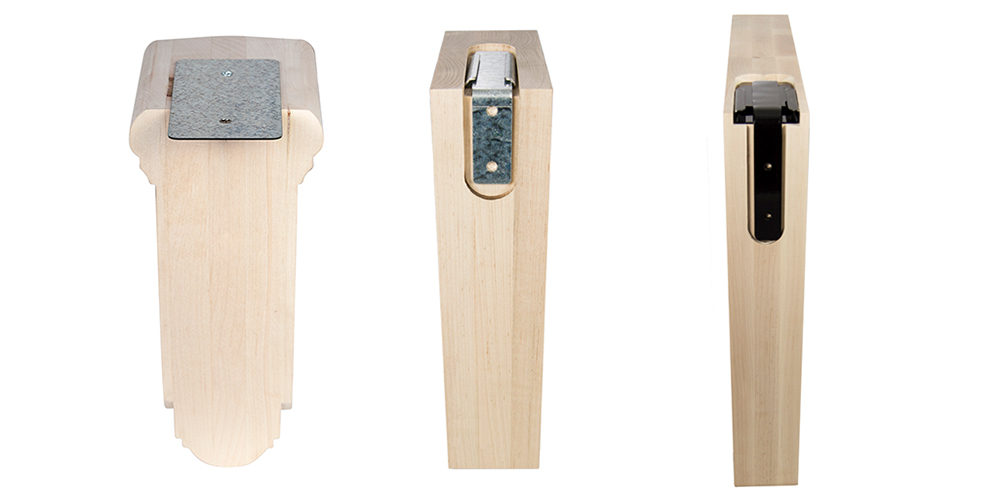 This constant evolving leads to more cost-efficient measures, quicker installations, and better methods of bolstering - keeping your prices down and your final project cleaner, crisper, and more professional than ever. Federal Brace's various wood corbel mounting systems ensures that not only is installation a piece of cake, but wood corbels can remain protected until the final stage of the project by only installing the bracket portion. Traditional methods - require your beautiful wood corbels be installed while workers are still coming and going in the work area risking damage. Not only will wood corbel mounting systems save time and money in the long run, but can also prevent your corbels from irreparable damage.
So come on, try something new…. Wood Corbel Mounting Systems