About Us
Federal Brace provides the complete solution to the consumers needs. With the largest selection of designer support brackets, that are specifically crafted for the support of granite and other solid surface countertops, Federal Brace has become a standard for innovative solutions in the market. Federal Brace incorporates strength and durability along with appealing traditional and contemporary Euro style supports. Our countertop brackets are made to enhance both residential and commercial environments and are made exclusively in the good ole USA.

"We started by helping people solve a problem. Through this process we ended up with a innovative solution and superior quality products that should be an industry standard." , DJ Toal, VP Sales for Federal Brace.

Safety is vital when considering products to be used in your home. A countertop overhang is an application where particular attention should be placed on making the sturdiest, most durable support structure possible. While standard corbels sold in the market today may look good, they do not provide significant support. The key hole attachment of corbels does not allow for high carrying capacity. Unfortunately, the alternatives to corbels have traditionally been very industrial in appearance and very hard to source.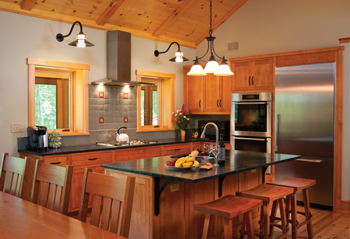 For Designers
We provide a custom bracket production service which takes the designer's concept through a production drawing service a to finished product. The options are potentially limitless in terms of creativity and innovation. Why be constrained by what is available in the market? If your customer wants a support uniquely created to match their décor, Federal Brace can help you make that happen.
For Distributors
You can now offer the full line of Federal Brace countertop support brackets to your customer base. We provided a distributor program that incorporates discounts established to make your business experience with Federal Brace enjoyable and profitable.
For Dealers
As a Dealer with a kitchen and bath design center you now have a countertop support product that will allow you to say yes to those customers looking for a little different touch. Large countertop extensions and counter bars are now easier to service with Federal Brace's outstanding selection of countertop support brackets.We thank you for your interest in our products and hope that you find what you need, but if not keep in mind we can custom make something for you. As always, let us know what we can do to help you have a successful and smooth installation.
Our Team