ADA Guidelines Impacting Bathrooms and Vanity Mounts
The Americans with Disabilities Act  (ADA) outlines specific requirements related to accessibility in bathroom areas. Section 4.23 deals particularly with Bathrooms and Bathing Facilities and section 4.23.3 has specifications related to Clear Floor Space. The objective of the ADA specifications is to provide standards for spaces to be created with ease of accessibility in mind. ADA Section 4.23.3 states, "An unobstructed turning space complying with 4.2.3 shall be provided with an accessible bathroom. Clear floor spaces at fixtures and controls, the accessible route, and the turning space may overlap." Section 4.2.3 specifies the space required for a wheelchair to make a 180 degree turn - specified at 60 inch diameter.
The Standards established by the ADA Sections referenced require that adequate spacing be provided within bathrooms for a wheelchair to turn. In order to meet these standards the bathroom designer and builder need to be consider how their proposed project will be planned and constructed. Precautions are necessary to ensure proper spacing and that any possible renovations will not infringe on areas required for ADA compliance.
We have talked with a number of designers that are including vanity support mounts in their bath designs to help with meeting ADA compliance. Designers and contractors can incorporate vanity wall mounts even when using under cabinets in case removal of the cabinet is required in the future for ADA compliance. Also, floors are completely finished even where cabinets are planned so that compliance can be met.
When designing a bathroom, particularly for public use, make sure to review the aforementioned ADA requirements and use the best measures to comply with the standards required. If we can help with your bathroom and vanity mounting needs please let us know by contacting customerservice@federalbrace.com. 
ADA Wheelchair Accessibility Requirements
The Americans with Disabilities Act (ADA) is a civil rights law that prohibits discrimination against individuals with disabilities in all areas of public life. The purpose of the law is to make sure that people with disabilities have the same rights and opportunities as everyone else.
Inclusivity and accessibility are important at Federal Brace, but that doesn't mean we compromise function or aesthetics. Our products are not only designed to work well, but also to work WITH you and your needs. While ADA requirements can affect how a product is designed, most of the guidelines refer to the spacing or clearance necessary around certain elements and service areas. Let's cover some ADA wheelchair requirements as they relate to our product base.
Clear Floor Space
First we'll go over the space that the wheelchair itself occupies. The clear floor, or ground space, has a minimum requirement of 48" by 30". This is the basic clearance needed for a wheelchair to occupy any particular space. This clear floor should be positioned for both forward and parallel approaches to an element, unless otherwise specified.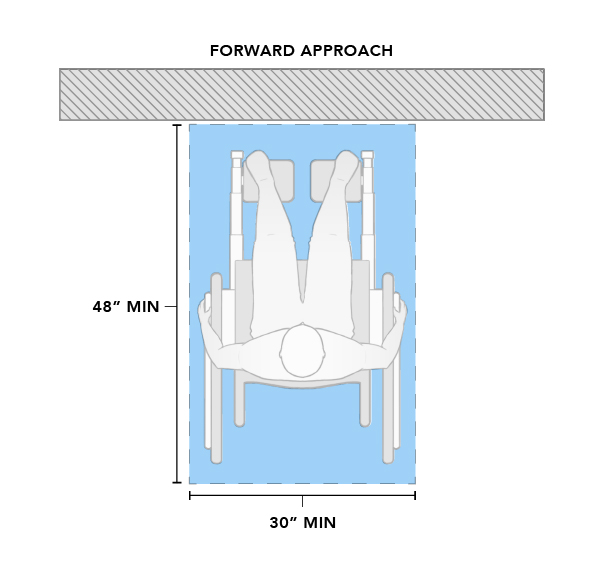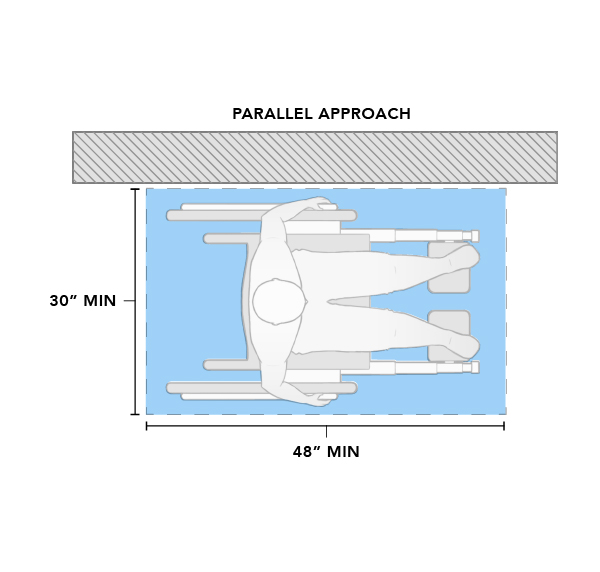 All scenarios mentioned from here on must include clear floor space for wheelchairs. In some cases (involving the need to turn) more space is required for optimal maneuverability.
Obstructed High Reach
Floating counters and shelves have become increasingly popular as of late. Due to the open space below the floating element, individuals confined to a wheelchair benefit from the trend. The ADA requirements to watch out for when installing floating shelves or counters involves the ability to make a high forward reach over the element (counter/shelf) when in a wheelchair.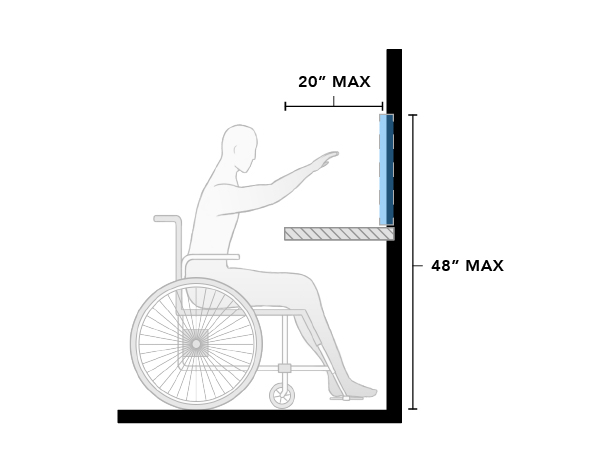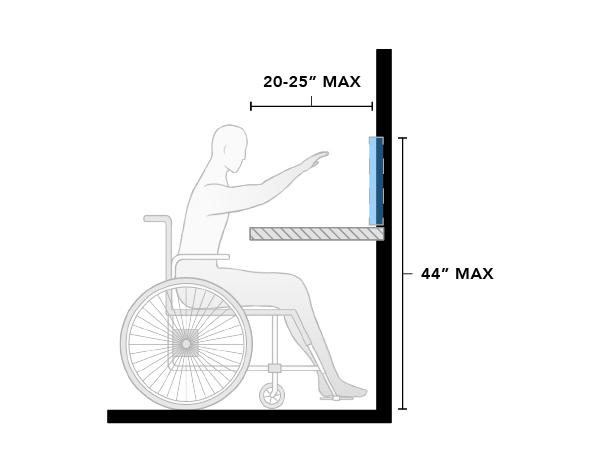 For a forward approach, the clear space depth below the element must be at least the same distance as the required reach depth above the element. If the reach depth maximum is 20", the reach height maximum will be 48". If the reach depth exceeds 20", the reach height maximum will be 44", with a maximum reach depth of 25".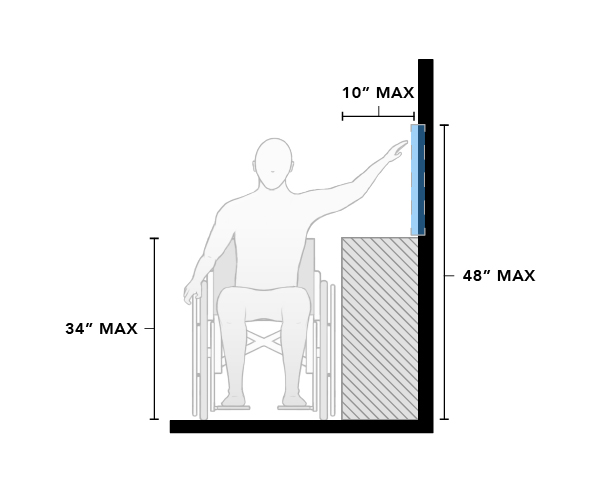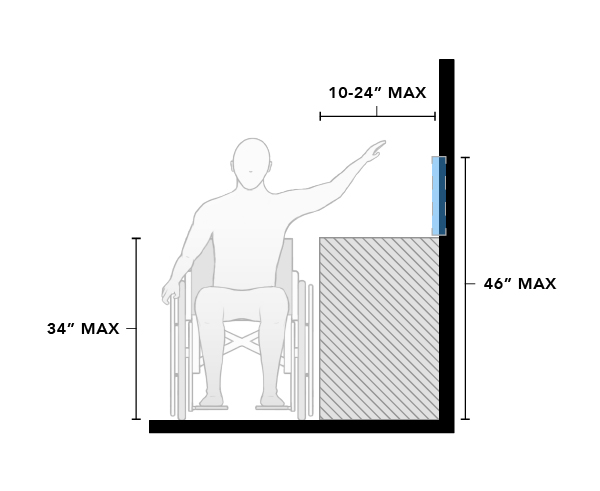 If the element you are working with only allows for a parallel approach, the maximum height of said element should be 34". If the obstruction has a reach depth maximum of 10", the reach height maximum will be 48". If the reach depth exceeds 10", the reach height maximum will be 46", with a maximum reach depth of 24".
A light switch or dry erase board above a countertop are examples of utilities that may be obstructed from wheelchair access if ADA requirements are not taken into account.
Knee Clearance
Space under an element between 9" and 27" above the floor should be considered knee clearance. Where knee clearance is required under an element as part of a clear floor space, the knee clearance should be a minimum of 11" deep at 9" above the floor, and a minimum of 8" deep at 27" above the floor. Between 9" and 27" above the floor, the knee clearance can reduce at a rate of 1" in depth for each 6" in height (maximum depth of 3" for this "slope").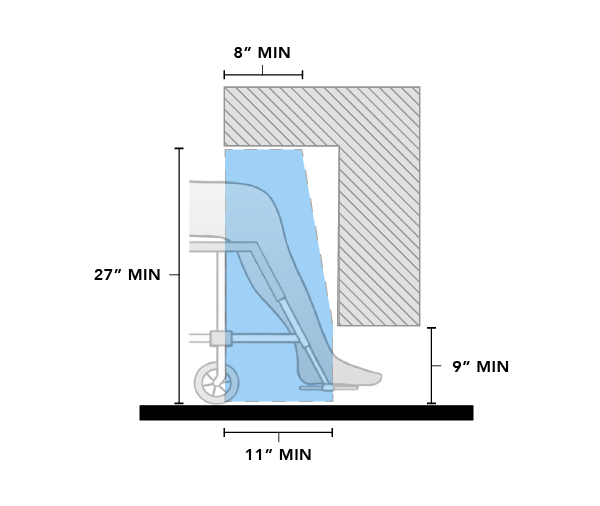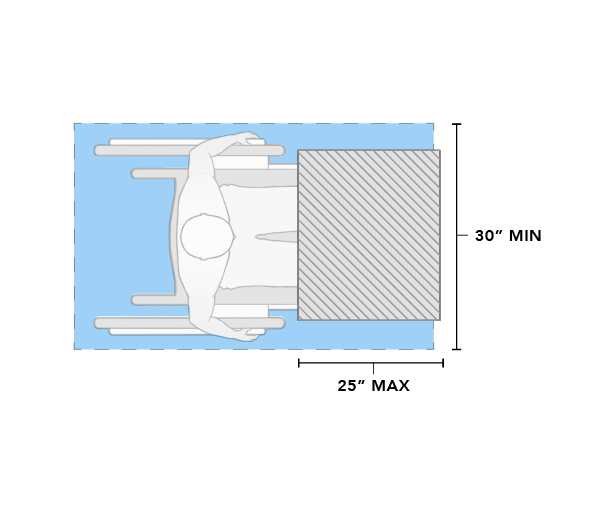 Knee clearance should extend a maximum of 25" under an element at 9" above the floor. There is a minimum width of 30" for toe clearance, which corresponds with the overall clear floor space requirement of wheelchairs.
Toe Clearance
Space under an element between the floor and 9" above the floor should be considered for toe clearance. Space extending greater than 6" past the knee clearance at 9" above the floor should not be considered toe clearance.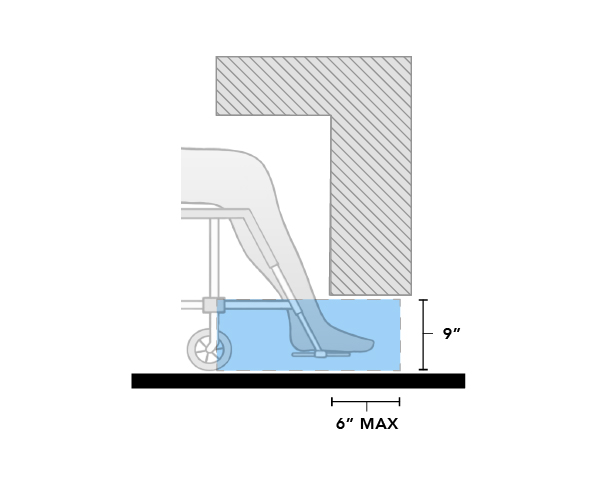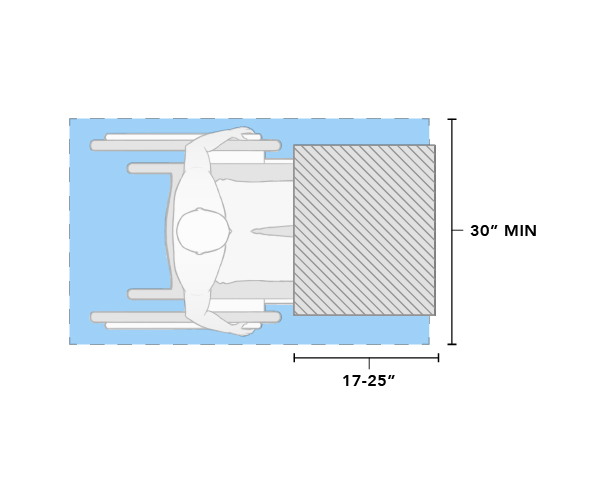 This clearance can extend a maximum of 25" under an element. When toe clearance is required at an element as part of a clear floor space, the toe clearance should extend 17" minimum under the element. There is a minimum width of 30" for toe clearance.
Dining and Work Surfaces
Clear floor space for a forward approach, knee clearance, and toe clearance are all required for dining and work surfaces to be considered wheelchair accessible.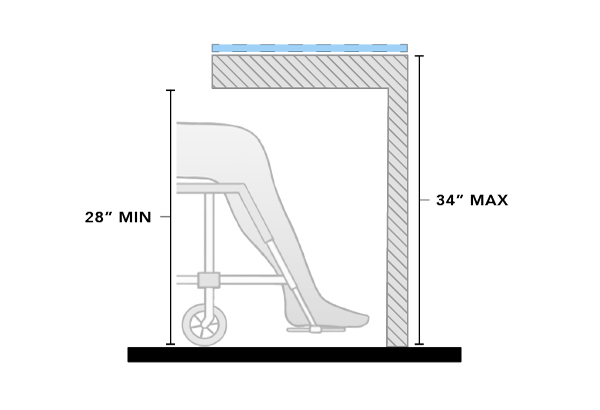 These surfaces have a minimum height of 28" and a maximum height of 34" above the floor.
Our ADA Vanity Brackets
We offer a couple commercial grade brackets at Federal Brace that are ADA compliant, following the requirements mentioned above.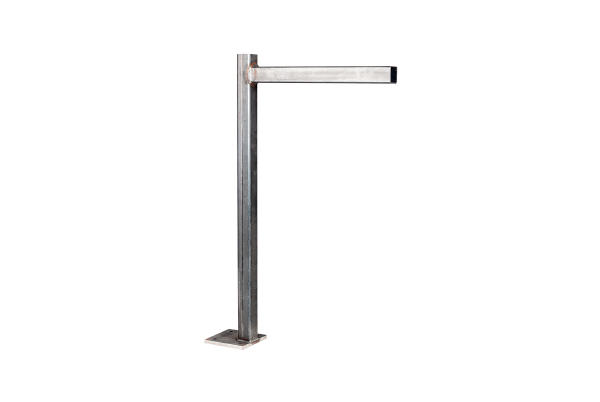 The Atlas ADA Floating Vanity Support is made of steel tubing with a heavy-duty 1/2 inch thick metal foot plate for fastening the ADA support into the structural substrate.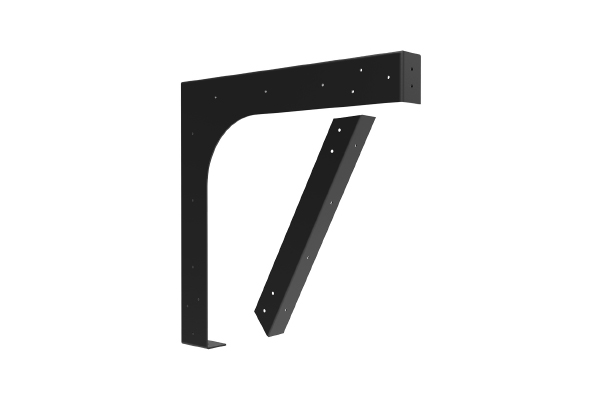 The ADA Universal Floating Vanity Bracket includes a front arm that creates an ADA compliant slope at the knee. This bracket is not fixed to the floor, allowing for custom installation heights as long as it follows ADA requirements.
All information and imagery in this resource was taken from or inspired by the official 2010 ADA Standards for Accessible Design document. There are many more specific ADA regulations written out in the document that weren't mentioned in this resource.