Company Awards
---



 
International Surface Fabricators Association 2020 New Product Round - Best Presentation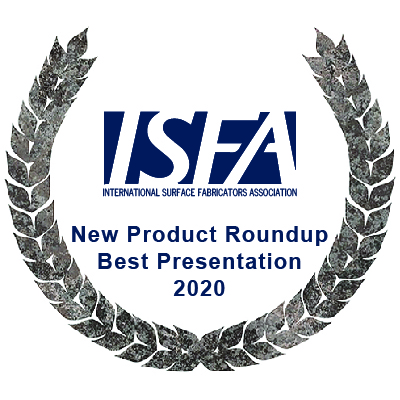 Federal Brace's video presentation "Reimagine" was selected as Best Presentation at the November 2020 ISFA Virtual Conference. The Video featured our newly released Liberty Counter Corner Support as well as the Harmony XL Countertop Support Bracket.


 
---
Adex Platinum Award 2019 - Workstation Mount 3Support System

Federal Brace has received a 2019 Platinum Award from ADEX, (Awards for Design Excellence) sponsored by Design Journal Magazine online. The Federal Brace Workstation Mount 3Support System includes two workstation brackets that support a floating, wall hung desk while managing all the cords that come along with computers & other technology items. A universal computer mount is included to create a streamlined environment.


 
---
"Best Bath Product" Finalist at 2019 IBS - Atlas ADA Floating Vanity Support

The Federal Brace Atlas ADA Floating Vanity Support has been selected as a "Best Bath Product" finalist by the NAHB International Builders' Show. The Atlas ADA Floating Vanity Support incorporates the sturdy structural construction of the Federal Brace Atlas Floating Vanity Support with an ADA compliant configuration for use with a floating vanity and floating stone surfaces.


 
---
NKBA Names Samual Schwartz To "30 Under 30"

The National Kitchen and Bath Association held a competition to determine the top 30 remodeling professionals under the age of 30. Samual Schwartz, product designer & customer engagement manager for Federal Brace, Belmont NC, made the list.


 
 
---
Inc. Magazine - 2018 Inc. 5000

"We are honored and humbled that Short Run Pro made it in the 2018 Inc. 5000 list," comments Scott Toal, Short Run Pro President. "It's an honor to be included on the list with such great companies. It is a testament to the hard work of our fantastic brand teams operating - Federal Brace, Oeveo & Killarney Metals. Of course, we also sincerely thank our great clients who place their confidence in us every day. Without our clients, this accomplishment would not be possible!"


 
---
This Old House - Top 100 Best New Home Products of 2017

Federal Brace is proud to be recognized by the editors of This Old House magazine as one of the Top 100 Best New Home Products on the home industry's most comprehensive new products list.


 
 
---
Top 100 Products of 2017

Federal Brace's Franklin Hidden Support was named a Top 100 Product of 2017 by Professional Remodeler, an industry resource for those within the remodeling and design industries. Pro Remodeler curates their list of the Top 100 products from reader engagement and viewership over the course of the year.


 
 
---
2017 ADEX Award

Federal Brace has received two awards from ADEX, the Awards for Design Excellence as sponsored by Design Journal Magazine online. The Chevron Countertop Support Bracket, and the Anthem Hidden Corner Support, both won the Platinum ADEX in their respective areas.


 
---
2016 Product Innovator Award

Federal Brace Anthem Corner Support Bracket was awarded the 2016 Product Innovator Award. Awards are an honor for manufacturers with superior product innovation. Independent judges from industry professionals base their decision on a variety of criteria, including innovation, aesthetics, function and technical advancements. Federal Brace was honored to receive this recognition in 2016 for our Anthem Corner Support Bracket.


 
---
K+BB 2015 Product Innovator Award Judge's Pick
Federal Brace has been selected as a Product Innovator for our 2015 product release, the Lincoln Top Plate. Selections were made by a team of board members and trend setters in the kitchen and bath industry for Kitchen + Bath Business online's digital magazine.


 
 
---
2014 Adex Awards

Federal Brace won the 2014 ADEX Platinum Award for the Foremont Countertop Support. 

Federal Brace won the 2014 ADEX Gold Award for the Ballantyne Post Support.



 
---
Best of KBIS 2013 – People's Choice Award

Federal Brace took home the "Best of KBIS 2013 – People's Choice Award," this weekend at the 2013 KBIS Show in New Orleans, Louisiana. This contest was held before the show April 8th through the 14th on-line and the winner was announced April 20th on KBIS's Facebook page. Federal Brace won by well over 200 votes. In all there were twenty-nine entries entered into the "Best of KBIS." 

Federal Brace earned this award with their latest creation the Luminati lighted bracket support. The Luminati uses LED lighting to add additional lighting where installed.  

 
 
 
---
EPIC Award

In February 2012, the Montcross Chamber of Commerce honored Short Run Pro's President, Scott Toal and company partner DJ Toal with the EPIC Award. Entrepreneurial, Progressive, Innovative and Collaborative - This award recognizes an individual who supports the community, demonstrates growth, is innovative and has worked with others as a mentor and collaborator.  
Their ten years in business start ups have given them insight into the pitfalls and growth areas of business. This knowledge is put to good use in advising new business owners. Both the Toals have served on the Entrepreneurial Roundtable for the Chamber to share with new business owners. They are committed to helping others start and grow new businesses.