5 Summer Building Trends for Outdoor Entertainment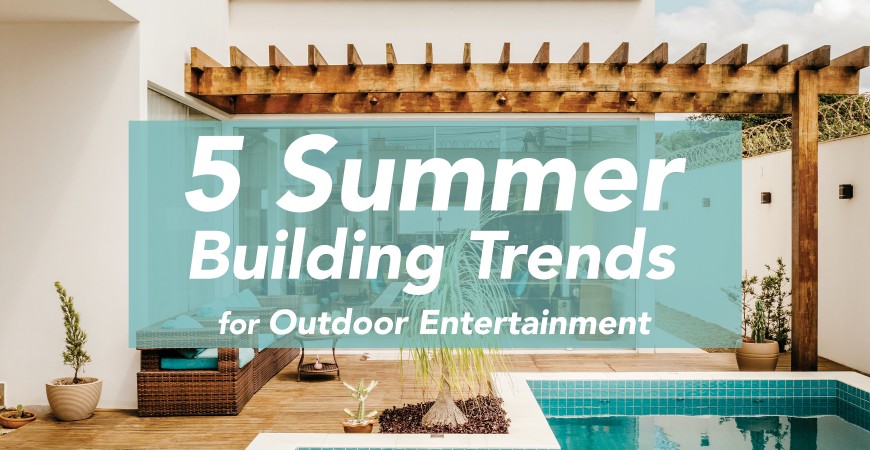 Posted on
05/05/2022
by
1597
Imagine your ideal outdoor living space. What do you see? Scenarios complete with blue skies, a gentle breeze, and the perfect amount of shade may enter the mind's eye. Maybe you're surrounded by friends and family, enjoying a night in with your partner, or enjoying some peace and quiet for yourself. Improving your outdoor space is a great way to escape the monotony of the indoors that we experience during colder months. According to WebMD, "As little as 5 minutes of outdoor activity can help improve your self-esteem. This is especially true if you're near water or green space." Time spent outdoors also lessens anxiety, improves focus, improves immunity, boosts creativity, and more. Scientists have provided plenty of evidence that supports our need for spending time outside. Below are five summer building trends that can help you truly enjoy your time outdoors.
Outdoor Bar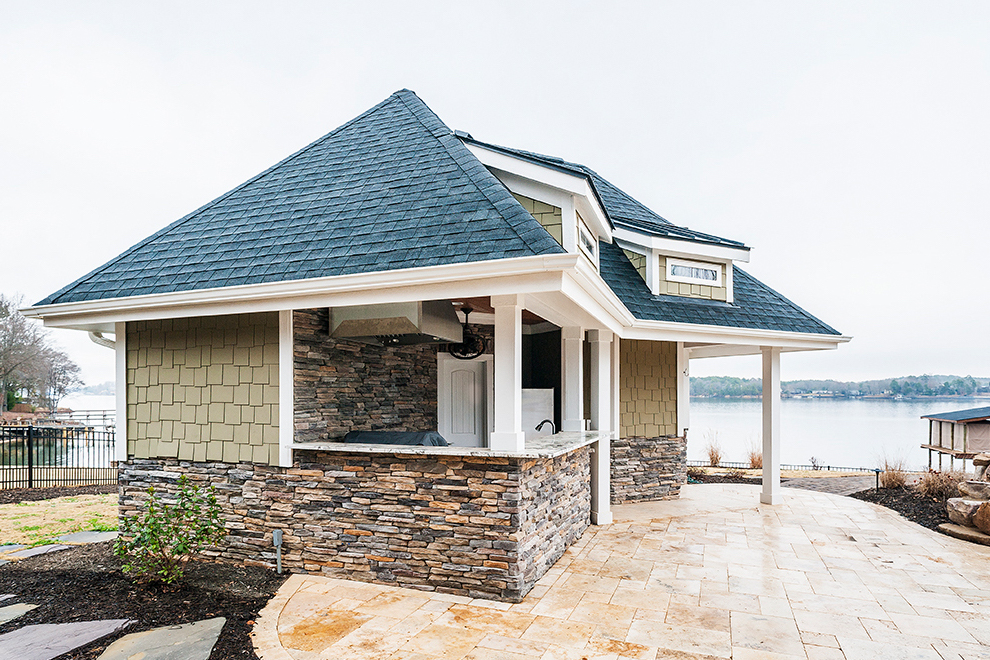 Maybe you're the best host on the block, you enjoy a pint (or two) from time to time, and/or you just really love coffee; adding an outdoor bar to your space comes with many benefits. You decide what to stock, who to invite, when last call is, and the overall ambiance of the space. It's totally up to you! Outdoor bars can be made with pallets, or can be designed/purchased from retailers. Your outdoor bar can be part of an outdoor kitchen, or a standalone focal point. At its most basic, an outdoor bar simply needs to include a countertop, supports (a half-wall perhaps), and barstools. They can also include a sink, ice bin, refrigerator, and more! One thing you will need when constructing your outdoor bar is the right hardware. The way you choose to brace your countertop is essential to the longevity of your new bar. The Lincoln Hidden Bracket by Federal Brace is a great solution for ensuring that the weight of heavy countertops is distributed in a safe way—for you and your investment. Whether you're a DIYer or a professional contractor, it's imperative to keep the structural integrity of the project front and center. The Lincoln Hidden Bracket can do just that, allowing you to enjoy your new home bar for years to come. 
Fire pit
Nights filled with songs, stories, loved ones, and the tranquility of the outdoors come to mind when thinking of some of the benefits of having a fire pit at home. It might just be the king of backyard additions! Who doesn't love a fire pit? There are no limits to its versatility. Fire pits are all-season, crowd pleasing, romantic, fit every budget, easy to acquire, and can be simple or complex in design. If you're concerned about the environmental impact of wood-burning fires, consider propane or natural gas. However, those options will cost you, and they are not DIY-friendly. Speaking of DIY, take a look at this video from StatUpBox that shows you how to create a basic wood-burning fire pit for just $60. And, if you're looking for something a bit more complex than that, but still DIY, consider this video from BroBuilds. If you aren't interested in the DIY route, the average cost ranges from "$300 to $1,400, with most homeowners paying around $850 for a 36" above-ground propane-burning brick fire pit. However, prices dip as low as $200 to install a 36" above-ground charcoal fire pit. On the other end, it can be as high as $5,000 to install a 48" in-ground natural gas fire pit," according to FIXR (a popular website offering cost guides for various home projects). There are as many ways you can enjoy a fire pit as there are options for how to build them. Regardless, if you enjoy being outdoors, a fire pit is a must-have!
Movie Screen
A home theater room is a great way to bring the experience of going out to the movies to your own home. But, what if you don't have room inside to accommodate this grand plan? Have no fear! Consider an outdoor movie screen and projector. Not only is an outdoor movie screen portable (typically), but it can allow for more guests to enjoy the experience with you. The most popular movie screens are inflatable, but there are also screens with stands (tripod and posts with feet being the most common types), both of which allow for easy set up. Easy set up is great for hosting an impromptu after work watch party of your favorite show or a special event. According to Better Homes and Gardens, an outdoor movie screen can run from $90 to $1,000 for a 14-foot to 33-foot screen, respectively. There are also luxury outdoor movie theater retailers that offer custom options, some of which can be built to retract into a special underground retainer. They can be set up and put away with the press of a button. Wow! If those options are not in your budget, or you prefer a DIY project, HGTV has a tutorial so that you can make your own! Regardless of what type of outdoor screen you choose, it's sure to bring you and your loved ones outdoor enjoyment for years to come!
Pergola
Whether you're creating a sitting area or a walkway for your home, pergolas are a great addition for introducing shade to your outdoor space. Modern pergolas are highly customizable and there are options available to fit most budgets. As an example of the available options and variations, consider the material, size, and construction of your future pergola. They are typically constructed from wood, vinyl, fiberglass, aluminum, and chlorinated polyvinyl chloride (CPVC). Because of the available material options, they can be virtually any color. However, the most popular color choices are white, black, neutral browns, and grays. Pergolas typically span between 8 feet and 20 feet on any given side. They can be multi- or single-level. They can be covered with fabric or climbing plants. They can also be left bare to allow more sunlight below. Regarding budget, DIY kits are generally less expensive, but require labor and effort on your part. You can also hire a contractor or craftsman. They can handle the entire process from start to finish and work with you to create the perfect pergola for your home. The variations are all but endless. Finish off with table and chairs, plants, sheer curtains, and string lights to create the perfect shady space. Lastly, another reason to consider building a pergola is the market value they add to your home, and the 50-80% return on your investment. It's clear to see why pergolas are such a popular outdoor addition!
Hibachi/Teppanyaki Grill
In North America, most of us think of hibachi grills like you find in Asian-inspired restaurants where they cook in front of you at your table. However, the grills used in these types of restaurants are actually called teppanyaki grills. According to Benihana, a popular sushi and Japanese steakhouse chain, hibachi grills are, "small, portable barbecue grills that are made from cast iron. These grills have an open-grate design and commonly use charcoal as their heating source." They go on to add that, "Teppanyaki grills typically use a propane flame as a heat source. Guests are able to sit around the teppanyaki grills so that they can view the skills of the teppan chefs while they grill chicken, pork, beef and seafood dishes." Either option would be a great addition to your home! They can be purchased online as a set (grill and wrap-around wooden countertop for dining). There is also the DIY-ish option of purchasing the teppanyaki, then building the wrap-around countertop and stand to accompany it. Makers Lane on YouTube has a great video showing how he built his "hibachi" setup. Regarding budget, the teppanyaki itself runs anywhere from $1,800 to $6,000, averaging around $2,800. Sizes typically range between 28" and 48". Adding an outdoor teppanyaki to your space makes for a great way to entertain guests and channel your inner chef.
Summer is approaching. These ideas can take your outdoor living space from drab to joyous. The possibilities for how to incorporate them into your space, and how to enjoy them once you do, are all your own. We hope you're feeling inspired to include one (or all) of these great additions in your outdoor space!