The 6 Bathroom Vanity Styles You Need To Know About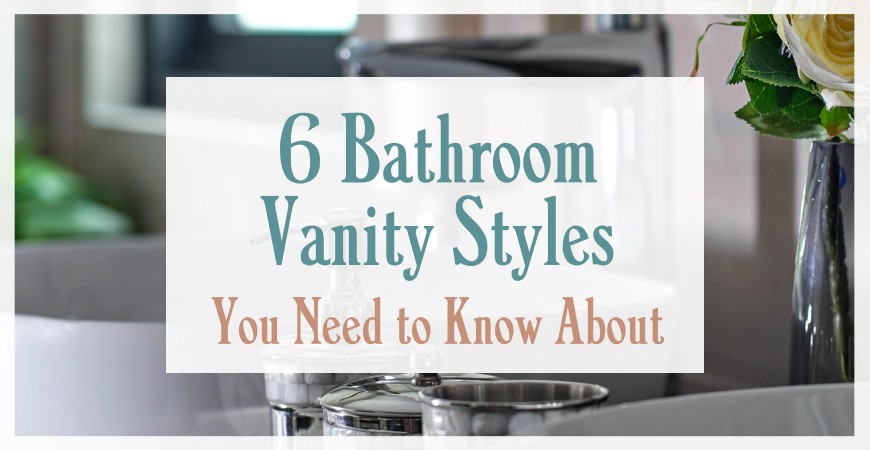 Posted on
09/15/2022
by
1655
The bathroom is arguably one of the most important rooms in the home (or business)—and is certainly one where we spend a lot of time. It should boast all the elegant finishes as the rest of your home, but oftentimes, it goes neglected. Your bathroom vanity can make or break your bathroom. A simple bathroom remodel and renovation can take it from boring and dull to a delightful respite. When it comes to bathroom interior design and the types of bathrooms, the vanity isn't just a necessary fixture—more often than not, it's the focal point. With that in mind, most designers begin their bathroom makeovers by choosing their bathroom vanity type. So what vanity do you need to begin your dream bathroom reno? The best starting point is to first familiarize yourself with the most common vanity styles. Vanities come in six basic types: pedestal, free-standing, floating, vessel, under-mounted sink and commercial.
Whatever you need your bathroom vanity space to be, we have the inspiration to help it live up to its full potential. Keep scrolling for the six bathroom vanities you might want to add to your bathroom.
Floating Vanity
Photo by Sanibell V 
With contemporary and modern decor styles becoming more popular, the floating vanity has increased in popularity. Floating vanities are fixtures that appear to be "floating" because they are mounted to the wall and do not sit on the floor at all. The main advantage of a floating vanity is the illusion of space it creates in the room. They allow the room to feel more spacious because of the ability to see the floor underneath. In a small bathroom where space is already a premium, adding lighting beneath the floating vanity can help enhance the illusion of additional space. These sleek, modern design elements don't look right in every space, but in the right spaces, they can create a beautiful aesthetic and provide a lot of function. One thing one must consider when looking to install a floating vanity is the support system it will be installed with. Make sure you do your research to find the proper support for your vanity, as this is crucial to be certain that the support has the right capacity and has the ability to be mounted directly into a structural wall. One of the most popular support for floating vanities is the Atlas Floating Vanity Support. It boasts an astounding 2,000-pound carry capacity across 3 supports. For a more simplistic approach, the Versa Floating Vanity Bracket is a great option! The Versa can be used as a Left or Right side bracket with its versatility to be flipped and retain its side walls for fastening. It can also be face mounted onto a stud if you have a finished wall you're looking to add a floating vanity to.
Pedestal Vanity
Photo by Francesca Tosolini 
Perfect for small spaces, single vanity pedestal sinks require very little space and are the simplest type of vanity. One notable feature is that they provide no countertop or space for storage. Pedestal sinks are one continuous unit, beginning at the floor and ending in the sink basin. Pedestal sinks are a timeless addition to your bathroom and never go out of style. Pedestal sinks are one of the more popular sinks in smaller bathrooms and guest bathrooms. They're easy to keep clean and usually the cheaper option when looking to find a sink for your bathroom. They have many different options, from pedestal vanities that feel like vintage pieces from the Victorian era to more modern minimalist pieces that are sleek and contemporary.
Free-Standing Vanity
Photo by Christian Mackie 
As the name implies, a free-standing vanity stands apart from the wall and the room, very similar to a dresser. Think about it as a vanity cabinet. It has many of the same advantages and the good looks of a pedestal sink, but with the benefit of storage. Free-standing vanities are a sturdy piece of cabinetry, typically made out of solid wood, with the sink basin built into them. Depending on the style and dimensions, free-standing vanities are a good choice for extra bathroom storage space. That extra storage does mean they can take up more floor space, but single-sink vanities can be a perfect fit for smaller bathrooms. Because they rest on the floor, free-standing vanities support most of their own weight, unlike wall-mounted or floating vanities. They are great in helping to open up a space by extending the room's line of vision, as the flooring can be seen underneath the cabinetry.
Vessel Vanity
Photo by Sanibell BV 
Vessel vanity sinks are essentially a bowl-type sink that looks like it is sitting on top of a counter. This unique sink is a popular choice for bathroom vanities and homeowners who want to add some unconventional personality to their bathroom design. Originally called a "bowl sink", the vessel sink is a type of free-standing sink that is mounted to sit directly on top of a surface. Sometimes called a corner vanity. Instead of more traditional drop-in sinks that are mounted into a countertop or underneath it, the vessel sink sits above the surface and is not installed into it in order to create an elevated basin. These sinks are typically only found in bathrooms, not kitchens, as their size and style is not practical for a kitchen environment. There are two ways to install vessel sinks:
Above-counter installation: The vessel sink sits completely on top of the counter or vanity. When people think of vessel sinks, this is the version they usually have in mind. A small drain hole is drilled into the vanity with no additional cutting of the countertop required.

Recessed installation: Recessed installation allows for greater basin stability. A larger hole is made in the countertop. This allows the sink basin to sit about halfway down.
Under-Mounted Sink Vanity
Photo by Point3D Commercial Imaging Ltd. 
An undermount bathroom sink is mounted under a countertop as opposed to an overmount which is installed from the top. This design means that your sink is flush with the marble countertop material, so food debris is less likely to get caught in between. You can simply brush crumbs and wipe spills directly into the sink without debris getting trapped under the sink's rim. Aesthetically, undermount sinks are also more visually appealing as the sink does not interfere with the natural material of your countertop because most of it is hidden underneath. Typically this design is more sought after for those that want a more classic and clean look to their bathroom.
Commercial Vanities
The last style of vanity is a commercial vanity. Commercial vanities are those in public places, such as department stores, restaurants, and schools. Most of these bathroom vanities are required to be ADA compliant for public use. ADA compliance requirements are consistent throughout all solutions and should be no more than 34 inches high. If the sink is under-mounted and built into the countertop, then the countertop surface should be 34 inches, too. Federal Brace offers ADA Universal Floating Vanity Brackets for use in both single-occupancy restrooms or multi-user restrooms. The Universal bracket, like the Versa, does not need a right AND a left bracket but instead can be flipped and retain its side walls for fastening.
Conclusion
Choosing a vanity that not only looks good but also increases the functionality of your bathroom can be an exciting experience. By doing research and knowing what will work best for you and your space you can design your dream bathroom starting with your vanity!
Here at Federal Brace what we like to say is, "Everyone LOVES a Floating Vanity. We LOVE Supporting Them."
Need further assistance on your Vanity Project? Call our team at (704) 755-8003 for help, design tips, and product recommendations.