Aging In Place With Federal Brace | Planning Your Projects For Accessibility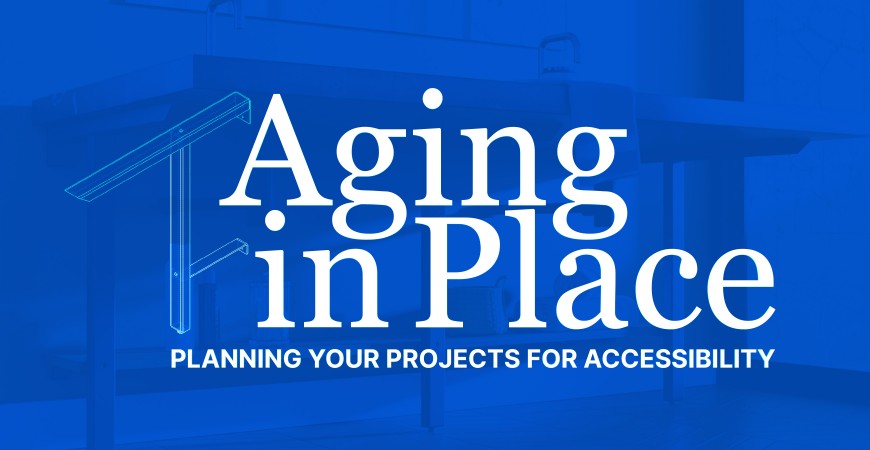 Posted on
03/07/2023
by
622
Designers are always looking for ways to improve home design and incorporate functionality and many people are looking to upgrade their homes both in design and configuration. One reason people are doing home remodeling is due to the rising popularity of "aging in place." 
Simply put, aging in place means choosing to stay in your home with family, friends, and neighbors — instead of moving to a residential facility designed to support long-term care, such as an assisted living facility.While many younger people may not be thinking ahead that far into the future when designing a home, it is certainly something to be considered. 
This experiment by Blum used an "Age Explorer" suit to simulate diminishing sight and hearing, as well as decreasing muscle strength, stiff joints and arthritis in order to help one experience the changes needed in the future as one ages. When choosing to remodel your bathroom, it is better to plan for accessibility during a new home build or remodel, rather than try to add it later on. Keep reading for more information to upgrade your home to better fit your future needs.
When designing an
ADA bathroom
, here's what to consider:
The toilet should have a seat 17-19 inches high.
Minimum door size of 32 inches, preferably 36 inches to accommodate wide wheelchair wheels.
ADA-compliant grab bars are at least 36 inches wide. You should fix them horizontally 33-36 inches from the bathroom floor.
Toilet tissue dispensers should be 15-19 inches from the floor. Soap dispensers should be 44 inches high, and towel dispensers/ hand dryers 48 inches from the floor.
Sinks and countertops must be no more than 34 inches high, with enough knee clearance.
Faucets must be operable with one hand, preferably lever-operated or electronically controlled.
So, does your home bathroom need to be Americans With Disabilities Act compliant? No, but it should. Only business owners must comply with ADA guidelines, whereas homeowners are exempt. But, just because you don't need to comply doesn't mean you shouldn't. There are good reasons for designing a bathroom along ADA guidelines. You may be able-bodied today, but anything can happen tomorrow. And as we age, ADA-compliant fixtures can help us stay longer in our homes. 
Whether you are remodeling your home for ADA compliance or simply wanting to make sure your home is accessible should you ever need extra mobility assistance, such as a wheelchair or walker, using ADA (Americans With Disabilities Act) guidelines can be extremely helpful in guiding you with specifications that are designed for maximum accessibility and mobility.
To meet ADA Code, countertops, sinks and vanities can not be mounted higher than 34 inches from the floor and require a knee clearance of 27 inches high, 30 inches wide, and 11 to 25 inches deep. When mounted at the appropriate vanity height, Federal Brace ADA Brackets provide strong, safe and compliant support that provides the required 27" knee clearance and is ADA compliant. 
Federal Brace countertop supports will comply with the Americans with Disabilities Act (ADA) when installed per the requirements of the Accessibility Guidelines, Section 606 Sinks, of the Act. Some of the more popular options Federal Brace offers for bathroom accessibility is the Olympus ADA Residential Floating Vanity Bracket and Braila ADA Countertop Support Bracket. 
Inspirations: Design and Functionality
Less Permanent Options
An ADA-compliant bathroom can be useful for everyone, but if the commitment of installing special ADA hardware is worrisome, or you do not want to do a total bathroom gut and remodel, there are other options that are easier to add that will help with aging in place. As a person ages, they might experience poor vision, imbalance, and various health complications. Grab bars are an easy, inexpensive bathroom addition. Another addition that can assist in the shower are shower benches. Shower seats are especially beneficial for mobility issues or injuries, as they provide a sitting option with showering.  They can assist in reducing slips and falls in the shower with a stable surface. This beautiful Teak Shower Bench will look great in any bathroom and are beneficial to all; they provide a foot rest for leg-shaving, exfoliating and foot scrubs.  
Looking to install a shower bench? Look no further,  Federal Brace shower bench brackets are made of a sturdy 0.25" thick material with a carrying capacity to support the bench and the person. These shower brackets can be installed before or after tile work is done with proper equipment and knowledge. Whether a corner shower bench or rectangular bench is required, we have the floating shower bench racket for you. Another quick addition you can make in any existing bathroom is assuring the flooring is non-slip. Adding bath mats, such as these Teak Shower Mats can make a great addition to any shower, bathroom, or doorway. Their strong, durable Teak construction will look fantastic and last for years. 
No matter what project you have in mind, Federal Brace is here to help. Give our friendly customer service a call at (704) 755-8003 or send us an email customerservice@federalbrace.com. Happy remodeling!