Fall Decor Tips And Tricks to Get Cozy With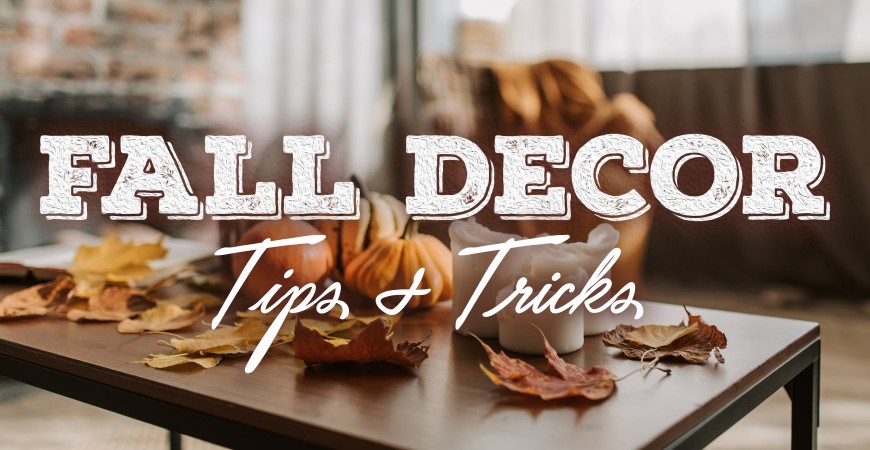 Posted on
11/03/2022
by
1678
Fall Decor Tips And Tricks To Get Cozy With
Fall is upon us! It's time to transition your space for the colder months, but it can be tricky if you are unprepared.
While it can be tempting to consider ostentatious fall decor – lots of pumpkins and all things  orange – keeping a more curated fall decorating style will take your space from gawdy to cozy with some helpful tips. 
And even though many fall decor ideas can be applied to other times of year, there is something remarkable about cozy additions that counteract the crisp, cold weather outside. We've pulled together some of our favorite fall decorating tips to get your home ready for the season.
Bring in the Copper!

Photo by Ron Lach  
Copper has been around for years, but it is quickly gaining popularity-making the glowing metal the star of the moment. Coppers' beautiful rich tones are the perfect addition for fall home decor… and can even be useful! Adding copper pails to your porch, copper dishware, and copper accents can quickly upgrade your space. Have you ever seen a copper shelf? This Copper Ledge Shelf is gorgeous! Don't forget to polish the copper to maintain its new-penny shine. Does a more vintage, rustic look fit your home better? Allow the copper to take on a rich, verdigris patina over time. 
Get Cozy by the Fireplace!
Photo by Sanctuary Home Decor
Safety comes first! The first step for the fall season is making sure your fireplace is prepared for use. Make sure it is inspected and clean before you decide to "Light it up!"  
Decorating your mantle and the decor around can quickly switch up your space to fit the season.
Find a variety of accessories to create a colorful, layered display on your mantel. The options and opportunities are endless, but some ideas include mini pumpkins, gourds, branches with acorns, seasonal flowers, and taper candles. Adding variety in the sizes, shapes and placement of your fall mantel decor creates a more visually interesting effect.
Is it time to uplift your fireplace with a new mantle? Federal Brace now offers fireplace mantel solutions in several beautiful finishes. Whether you're after a rustic country house look, hoping to give a space more traditional charm, or transform your home with some modern flare, upgrading your fireplace is a sure way to lift a space. Federal Brace faux wood mantels (COMING SOON) capture the rustic nature of authentic beams at a fraction of the cost and installation time. These lightweight mantels are easy to install over any fireplace or wall. Don't have a fireplace? You can also use these mantles as a beautiful floating shelf. 
Add a Rug!
Photo by Rockridge Furniture and Design
If there was only one item from this fall decor idea list to add to your home, a rug is the perfect choice. One of the simplest ways to add some warmth, texture and color to your home this fall is to introduce a versatile – and easily changeable – rug. Rugs are far more versatile than a carpet or tile or hardwood floor. Adding a rug or runner offers a fantastic way to soften the look of a hard tile or wood floor and can also be layered onto carpet to help add some texture and color.   
Outdoor Fireplace!
Photo by Axel Landscape
With the weather finally cooling down, evenings outdoors are much more enjoyable… especially with the warmth of an outdoor fireplace! Let the good times roll with outdoor fireplace ideas that will keep everyone cozy outside even when the temperature drops. Setting up an inviting seating area around a fire pit, log-burning brazier or chiminea is a tried-and-true way of bringing fall decor outside your four walls! Aside from the obvious addition of the warmth of a fire, the ambient lighting given by the fire help set the perfect mood to gather with family and friends. Already have your outdoor fireplace? Think of ways to spice it up! Add new cushions, a thick outdoor rug, some throw pillows, or even set up a marshmallow and hot chocolate bar! The possibilities are endless in style and entertainment.
Hang a Wreath!
Photo by The Pioneer Woman
It might seem like an obvious choice, but the humble wreath is one of the most versatile fall decorating tools waiting at your disposal for autumn. Get your DIY on or find an already finished one at your local home decor store or online. Perfect fall wreath ideas include a mix of dried foliage, grasses or flowers, sections of fresh greenery like eucalyptus and fresh herbs such as thyme, sage or rosemary.  For your fall wreath, try to limit your colors to reds, browns and muted, faded greens for a perfect fall feel. If you are the person that loves color in your space  dried leaves can come in a whole host of bright shades to create your perfect front door.
Big, Comfy, Couch!
Photo by Pottery Barn
Set the vibe for fall and cooler weather and get ready to relax on your couch for some netflix and hot tea. A super fun way to include fall decor in your home is with pillows, cozy blankets and throws. A quick, easy trick for spicing up your home and preparing for fall is just adding a candle! A cinnamon or pumpkin spice candle lit on your coffee table is perfect for bringing autumn inside. For some fall coziness, bring out the throws! Typically, people put away their extra blankets and throws over the summer. Use the cooler weather excuse to bring them back out and style with all the texture. Faux fur and deep autumn colors can pull the space together. Add a few throw pillows, or get some new pillow covers and you're done! 
Decorate, Decorate, Decorate!
Image by brook maiorana
You don't have to do a complete room remodel to add the ambiance of more space to your home! Adding some open concert shelving can help open up a room. You can add some Floating Shelves to your kitchen or living room to help make your space feel bigger. Adding some fall decor, such as a fall themed vase or some pumpkins to the shelves can help add some fall feels. 
Whatever you decide to do to celebrate the fall season, decorating for fall doesn't have to be complicated! These favorite quick and easy ideas will have your home ready for fall in no time.